Off course training has become an essential part of performance success in golf, and investing in a home exercise space designed to enhance your game is something you may be considering. Sports specific focused home gyms are fast becoming a must have for those that wish to advance their game in line with peak personal wellness.
A carefully crafted home training space offers a myriad of benefits including convenience, privacy and, – perhaps most importantly – complete customization to facilitate specific training modalities.
Where to Start?
Guiding impactful home gym design requires a strong understanding of functional space and intention toward the desired outcomes.
First, the area must unequivocally support the different types of movement patterns and exercises you'll incorporate in your training. For example, rotational movement and other large, dynamic movements will be a key component of your golf-specific training alongside an open floorplan with the right functional training equipment.
Striking a smart balance between cardio, strength equipment, and functional training space coupled with the right recovery tools is essential. It's also important that your training space establishes an environment in which you look forward to entering – a room that facilitates energy and can also act as a sanctuary from other areas of the home.
From an interior design perspective, the home gym should serve as an extension of the home itself, not a departure or sacrifice in comfort. Colors, textures, wall art, mirrors and the right lighting are all careful considerations. When planning for a sport-specific home gym, it's important to keep in mind others in the family who may participate and accommodate for them as well.
Here are some deeper considerations…
Design From the Ground Up
When creating a sports specific home gym, one thing that often gets overlooked but is vitally important is flooring.
Flooring must support effective traction, shock absorption, and create stability while facilitating sound absorption. Today there are also many esthetic considerations that will broaden your visual opportunity beyond what you might think is available beyond a black gym floor.
Cardio training such as plyometrics or the use of a treadmill or heavy equipment requires durable flooring that absorbs shock and offers support. Engineered rubber is a good place to start. Rubber is also a good option for strength training, as it will support weights or equipment if dropped.
A consideration for every home gym is how well it cleans up and prevents odors from building. For example, virgin rubber and recycled rubber are terrific options with no unpleasant "used tire smell" frequently associated with low-grade rubber floors. The closed-cell, non-porous construction of many options will not allow dirt or moisture to penetrate the surface, allowing for easy clean-up.
Further, the last thing you want is a dream home gym that fills the house with clanking and pounding. Select specialty gym flooring that absorbs sound!
Looking Good
Depending on where it's located in your home, you'll likely want your gym to blend with your aesthetics and color scheme vs. a departure in style. A "Gold's Gym" or "CrossFit" look may not be exactly what you have in mind. Fortunately, there are many equipment, color, and material performance options to choose from today that won't disrupt the visual appeal of your space and home. For example, some flooring surfaces can appear like stone or wood, but still perform with the functionality and acoustic properties of rubber.
This groundwork should be laid while you are in the designing stage. You'll get better workouts while saving yourself from injury and a less inspiring space to visit multiple times per week.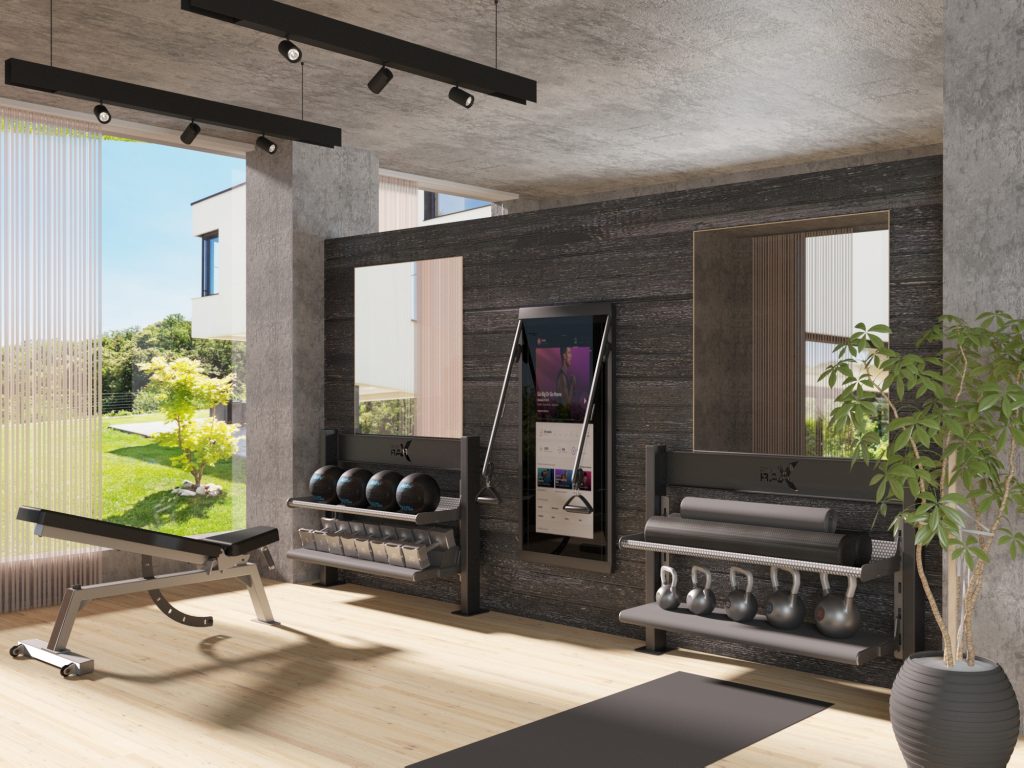 Training Equipment
You will want to load up on premium functional training tools crafted to facilitate your specific workouts.
As a golfer, some specialty products you might consider include…
Gym Rax modular storage and suspension bays are endlessly configurable for exercise spaces and will allow you to back into your room size with support for storing of all of your new equipment. These systems further include pull up bar options, and anchor points for suspended training modalities such as boxing bags, suspension straps, and power bands.
Aktiv AQUA products facilitate a focus on core training and rotation…perfect for the golf enthusiast. These water-filled tools provide a stabilization challenge during functional movement whereby improving power, strength, balance, and coordination and the load can be easily adjusted simply by adding or subtracting water as you change exercises and/or progress.
The RECOIL Trainer is a next generation suspended training device that with the push of a button extends your straps to the exact length you want them and then recoils to remain out of the way when not in use. Suspension modalities remain at or near the height of popularity of all functional exercise programs. Enabling hundreds of exercises that optimize strength and increase flexibility and explosive power, a suspension training device can be an essential part of any gym.
You will further no doubt also want to consider at minimum dumbbells, a bench, and more functional training essentials as well as cardio equipment in your wish list.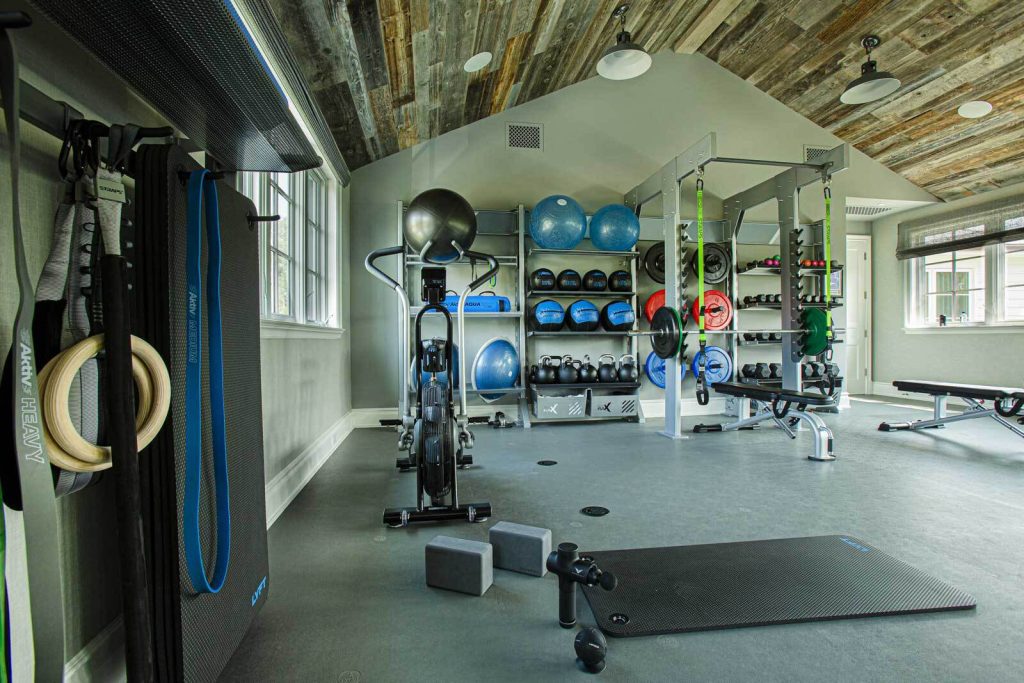 Don't Overlook Recovery
Proper recovery sessions are a vital part of any sport-specific training, and often this modality does not get the space or thoughtfulness it requires when it comes to home gyms.
That same open floor plan used for dynamic movements and functional training will also support stretching, myofascial release and foam rolling if smartly planned
The key benefit here is having all the right tools at the ready, and also neatly stored when not in use to preserve the most training space during the exercise.
Smart Storage
Planning for home gym storage that looks as good as it works in organizing your fitness space should begin even before you select your fitness equipment. There are great choices today including storage-only solutions or those that will do double-duty such as integrated pull up bars or anchor points for various equipment.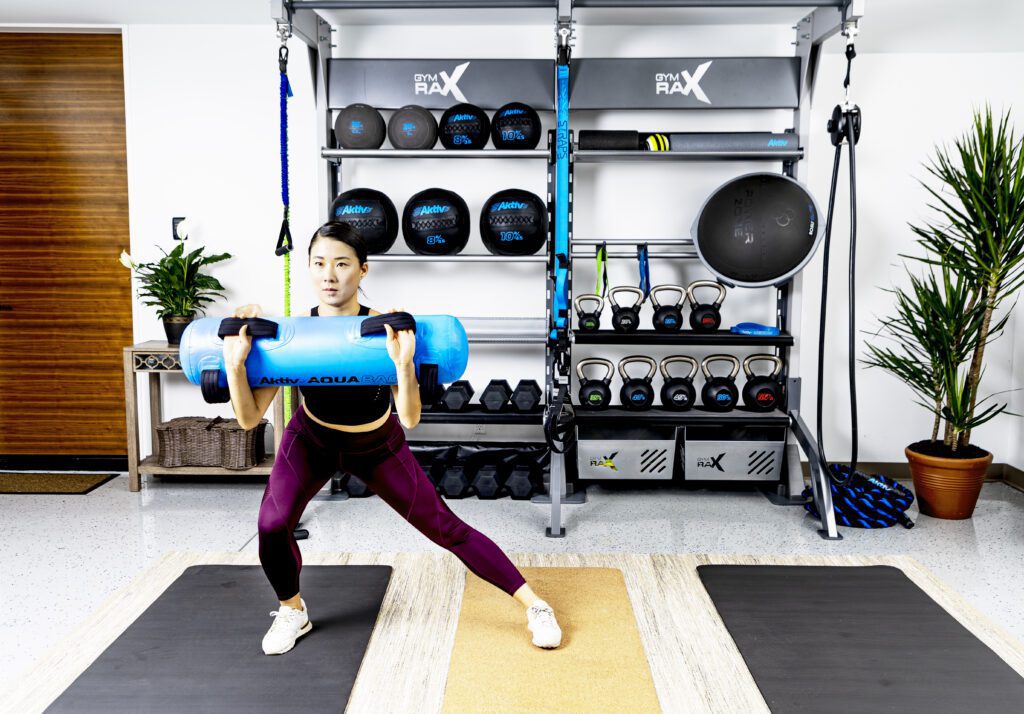 Digital Integration
Finally, you will no doubt want to gain digital guidance as you train, therefore it's important to consider AV integration within your design plan. This is where the fun factor matures, and the environment remains variable and welcoming for many sessions down the road.
A holistic approach to creating your dream sport-specific home gym takes time and careful planning. Working with an expert in the home gym design field can help support and enhance your quest to build this special feature within your home.
About the Author
Bryan Green is the Founder of FitnessDesignGroup, a Los Angeles based firm that has designed for companies including Apple, Nike, and Google alongside professional sports teams, leading hotels, and universities. For support related to home or commercial gym projects across the United States: [email protected]