From the hands of master craftsmen and the minds of golf technology innovators comes Honma's new TW757 line. It's a thoroughly modern range of woods and irons boasting carbon slot technology for the swifter initial ball speed and greater distance accomplished players are after.
We are extremely excited to get the long-awaited T//World 757 line in the hands of golfers across North America," says COO of Honma North America, Janeann Lanning. "It's a handsome product line loaded with performance-improving characteristics. The use of carbon in these two new driver models helps produce exceptional speed that's going to catch a lot of people's attention. And the three new iron models—built for mid to low handicappers—perform brilliantly in their respective categories."
Launched in March 2022 and available now, TW757 has been designed with swing speeds between 85 and 120 mph in mind. The world's first carbon slot technology makes for a sleeker sole slot and raises the standard in club face repulsion. The TW757 difference comes through at every moment of play, from the feel of the swing to the sound at impact.

See also: Speculation Grows That Tiger Woods Will Play at the Masters
The TW757 driver's thin layer of titanium supported by a lighter and more responsive carbon insert maximizes distance for the player with higher launch conditions, less spin, and increased discretionary weighting. This slot technology and each club's lightweight carbon crown work together for a lower center of gravity, delivering faster initial ball speed. Underneath the crown, two ribs create extra clubface rigidity, capitalizing on the carbon's bending energy.
The drivers' fine Japanese craftsmanship includes premium Toray composites and tour validated Honma Vizard shafts that perfectly pair with the Type D (directional control) or Type S (spin and stability) carbon fast frame for optimal power off the tee. Both the D and S drivers feature Honma's proprietary non-rotating system for long-game consistency and dispersions.
With previous models' angle-adjustment function deliberately replaced with overall tech improvements, TW757's fairway clubs have been thoughtfully designed for initial speed, control, and stability. Classic shaping blends a 455-steel cup-face with an ultralight carbon crown for a true player's Three-Wood.
The hybrids deliver relentless control without compromising distance – and vice-versa. Progressive CG weighting and player-preferred neutral bias joins with square face angle for the optimal balance of distance and control.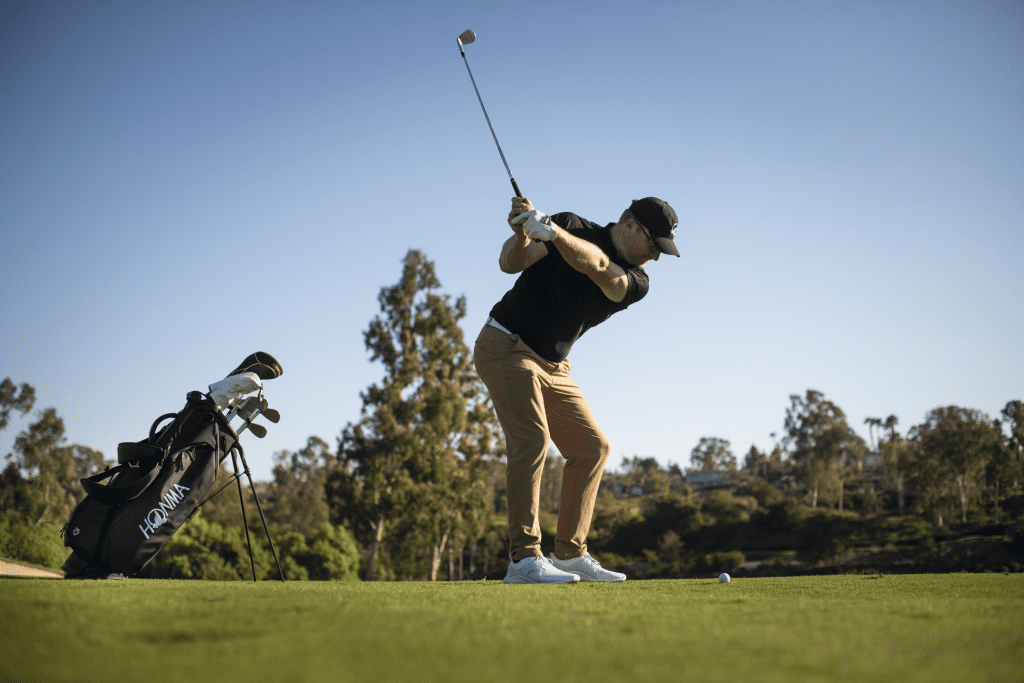 Finally, TW757's multi-material family of irons are made for precision and control. TW757P player's distance irons feature strategic tungsten sole weights, pocket undercut cavity, and cup-face designs for sweeping distance in a classically shaped club.
TW757Vx player's cavity back irons are forged from a billet of the softest S20C carbon steel. Tungsten toe weighting centralizes the center of gravity in a tour-approved address and sole profile. The TW757B player's blade irons are a modern muscle-back design using a soft 8620 with mass reallocated from the heel to toe. Strategic placement of tungsten toe-weighting offers top players total control of their ball flight.
Ever since Honma's 1959 beginnings in a tiny Yokohama workshop, the company has been at the forefront of golf innovation and quality production. From the start, Honma's believed that club craftmanship was its own art form. The result is equipment that stands out in both function and form.
For example, TW757's hand rolled Vizard shafts maximize club performance through advanced carbon materials and Honma's legendary quality control of all points of design. Fully synergized with the line's driver, fairway, utility, iron, and wedge head designs, Vizard shafts deliver a seamless "whole-club" player experience. The shafts' Precision Spine Adjustment Technology (P-SAT) provides consistent spine alignment without sacrificing the player's ability to adjust for both loft and face-angle to optimize ball flight—common on the PGA Tour as well as many other high-profile tours.
Even today, Honma's Takumi craftsmen spend decades learning the intricacies of club construction before they are permitted to work directly on Honma equipment. The company's in-house manufacturing campus in Sakata employs approximately 360 skilled craftsmen with an average of 27 years of experience of quality production with advanced materials, fine metals, and painstaking attention to detail.
For more information about Honma and the TW757 family, please visit www.honmagolf.com.