Over a long PGA TOUR season, certain situations and scenes stand out. That was certainly the case in the early months of the 2018-19 schedule as veterans and newcomers alike scored meaningful victories. And as we discovered at the Waste Management Phoenix Open, sometimes a riveting event can occur before the competition has even begun. Enjoy these reflections on half a dozen defining moments from writers who were there.
Dream Week for Howell as Drought Is Broken
By Scott Michaux
It's typically not a surprise when one of the top 20 career money leaders in PGA TOUR history wins a tournament, but when 4,292 days (11 years, 9 months) pass between victories it can seem like a breakthrough.
"You know, golf is a brutal game and the highs of the high, it comes with a lot of real lows," Charles Howell III said after his playoff victory last November at the RSM Classic snapped his extended drought. "You work and you practice and you prepare and you think you're doing all the right things and the results don't quite show that. So then you start to question everything really. It's a wonderful lesson to be learned that if you truly believe in what you're doing, to stay the course."
Howell was always destined to be one of the top golfers in the world. After winning the individual NCAA title at Oklahoma State in 2000, he turned pro and was heralded as the next big thing following Tiger Woods' arrival on TOUR several years earlier. Howell won a PGA TOUR event in his Rookie-of-the-Year season in 2002 and quickly climbed inside the top 20 in the world.
By the start of 2018, however, Howell had played more than 500 professional events and won more than $35 million, yet he only had two career victories—the last in 2007 when he beat Phil Mickelson in a playoff at Riviera. He'd finished runner-up 17 times and third nine more in his career—each near miss cutting a little deeper even as it swelled his bank account.
"The line between first and second is a big line," he said.
Crossing that line from second to first again released a flood of emotions as his wife, Heather, and two kids ran onto the green for a tearful embrace.
"The fact I'm sitting here with this trophy, it's still a bit of a dream," he said.
Scott Michaux is an award-winning journalist who has covered golf since 1997 for the Greensboro News & Record and the Augusta Chronicle.
Going Low, Schauffele Starts 2019 on a High
By Dave Shedloski
Some guys know how to play with a lead. Xander Schauffele knows how to lead from behind, if you will. If that wasn't evident in the 2016-17 season, when he won twice in comeback fashion and received the Arnold Palmer Award as PGA TOUR Rookie of the Year, he left no doubt at the 2019 Sentry Tournament of Champions.
In the first event of the calendar year, Schauffele fired the lowest final round at Kapalua Resort's Plantation Course, an impeccable 11-under-par 62, and surged past third-round leader Gary Woodland for his fourth career title. The round included two eagles with a wedge, the second a hole-out from 107 yards. He nearly had a third eagle, missing a 12-footer at the par-5 home hole after finding the green from 272 yards. Nevertheless, the birdie completed a breathtaking rally that tied the course record and was the lowest round of Schauffele's pro career.
He finished at 23-under 269 to beat Woodland by a stroke. And to think the California native started the round with a bogey.
"Honestly a bit speechless. It was a crazy day," said Schauffele, 25, who began the final round five strokes behind Woodland. "It's by far the best final round I ever played."
Schauffele tends to go crazy on Sundays. In his previous start at the World Golf Championships-HSBC Champions, he birdied his final two holes and posted a closing 4-under 68, the day's low round at Sheshan International Golf Club, to erase a three-stroke deficit to Tony Finau. He then triumphed with a birdie on the first playoff hole. And in the 2017 TOUR Championship, Schauffele birdied the 72nd hole for a 2-under 68 at East Lake Golf Club, rallying from two back to become the first rookie to capture the season finale.
It's all about his mindset, which appears perfect for the comeback challenges he has overcome. "I'm a pretty mellow guy," he said, "but I've got a fire burning inside."
Based in Columbus, Ohio, Dave Shedloski contributes to a number of publications, including Golf World and Golf Digest. He has covered every Presidents Cup since 2005.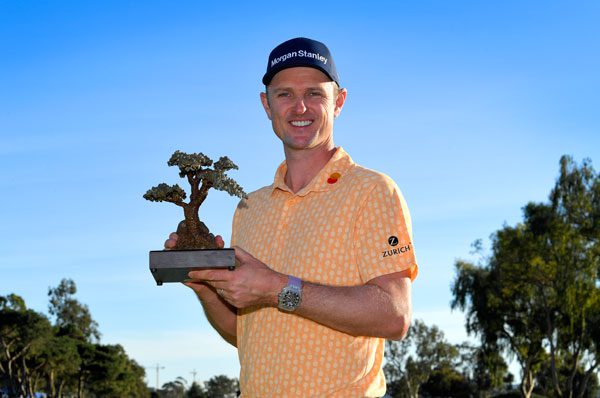 Calm Under Pressure, Rose Talks Himself to a Farmers Victory
By Tod Leonard
As cool and affable as any of his brethren on the PGA TOUR, Justin Rose hardly speaks louder than a man sitting at English tea.
Yet on a sunny gorgeous late January Sunday on the cliffs at Torrey Pines, Rose was experiencing an internal conversation that would have roared above the sound of the surf below.
"You're No. 1 in the world for a reason," the 2018 FedExCup champion recalled telling himself. "Just start playing like it please."
Of course, he said please. Even an angry Rose is a polite Rose.
Rose began the final round with a comfortable three-shot lead, but bogeys on three of the first five holes put him in an all-too-familiar predicament: Rose had only closed out four of 14 previous attempts to capitalize when holding at least a share of the 54-hole lead.
An impressive constellation of stars was trying to chase him down; Rory McIlroy, Adam Scott, Jason Day, Patrick Reed and Jon Rahm.
Rose didn't wilt in the heat. He steadied himself, shot 3-under-par 69, and finished at 21 under par to capture a milestone 10th PGA TOUR title.
The 38-year-old Englishman had to hold off the stirring charge of Scott, who birdied the final four holes to shoot 68 and finish two strokes back.
"It was a tricky day today," Rose said. "A three-shot lead is never easy, and [at the] start, anything that could go wrong did go wrong.
"So I felt like I had to work for this one today … There's a few little extra pieces that make this win a fun one."
Rose triumphed in the absence of his regular caddie, Mark Fulcher, who underwent heart-valve replacement surgery earlier in January.
"Obviously, dedicated this one to my caddie, 'Fooch,' who's sitting at home and probably finding it much harder to sit at home than actually being out here," Rose said. "And probably harder than the heart surgery itself, watching this weekend. This one's for him."
Tod Leonard has been the golf writer for the San Diego Union-Tribune for 19 years.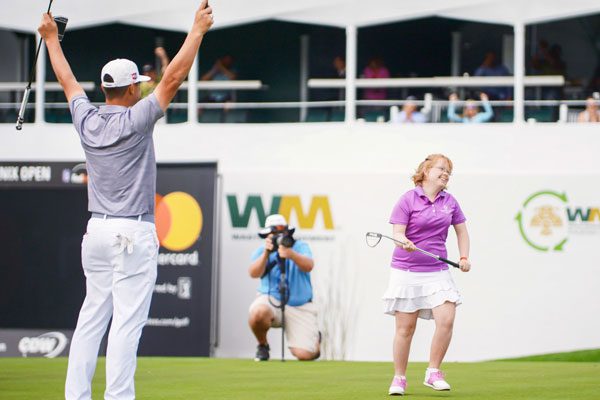 An Inspiring Scene in Scottsdale Goes Global
By Doug Milne
On rare occasions, the fondest memory for a player at a PGA TOUR event has nothing to do with a single shot he hit.
At the 2019 Waste Management Phoenix Open, that particular moment for defending champion Gary Woodland, captured on camera and shared with the world, not only left an indelible mark in Woodland's heart, but it also invigorated the collective spirit of millions of viewers spanning the globe.
With but two swings and a putt, it also changed the life of 20-year-old Amy Bockerstette, an accomplished golfer who also has Down Syndrome.
In what was intended to be a video feature for PGA TOUR social media channels, the idea was that Woodland would surprise Bockerstette in the gallery and invite her to play the famed par-3 16th at TPC Scottsdale during a Tuesday practice round.
No-one knew what to expect. And, no-one could have imagined the outcome.
With cameras rolling, Bockerstette hit a 6-hybrid from 117 yards to the greenside bunker. Her blast from the sand left her just eight feet away from a par. By now, anyone not living on the ocean floor knows Bockerstette sank the par putt, after repeatedly stating to herself; "I got this."
"I've been blessed to do lot of cool things on the golf course, but that is by far the coolest thing I've ever experienced," said Woodland. "To step up in front of all the people and hit the shots she hit and make par, I never rooted so hard for somebody on a golf course."
By the time Woodland finished T16 in defense of his title that Sunday, the video had gone viral with millions of views. It was picked up by countless newspapers, magazines and television and radio shows the world over. Before the end of April, the extraordinary feature had gotten more than 21 million views on PGA TOUR social platforms alone.
"She was so excited and happy and that is something we can all learn from," said Woodland. "I told her she was a hero and to keep doing what she's doing, because we're all going to be following her."
Doug Milne has worked in Communications at the PGA TOUR for 28 years.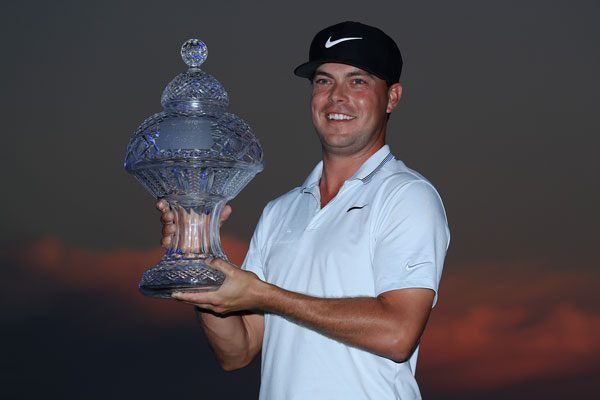 Mitchell Clutch When It Counted at The Honda Classic
By Steve Waters
Keith Mitchell admitted that sometimes he lets his emotions get the best of him on the golf course. But tied for lead of The Honda Classic with two of the biggest names in the game, Mitchell was cool and focused as he stood over a 15-foot birdie putt on the final hole.
"Everybody dreams about having that putt on the 18th hole to win a tournament, and fortunately I was able to capitalize, and it feels awesome," said Mitchell, 27, after making his fourth birdie in the final seven holes on PGA National's intimidating Champion Course for his first PGA TOUR victory.
"It was the best putt I've ever hit under the circumstances, hands down."
That putt gave him a 3-under-par 67 for a 9-under 271 total and a one-shot victory over Brooks Koepka and Rickie Fowler, who each birdied the final hole before Mitchell arrived.
The second-year pro was tied for the lead after two rounds but started the final day one shot behind the leader in a tie for second. He opened with consecutive bogeys after driving into a bunker on the first hole and three-putting the second.
"I wouldn't say the first two bogeys were nerves. I would say they were bad execution. I was anxious, is the best way to say it," Mitchell said. "I've been working really hard with my caddie to try to not let my emotions take over, and what I do is I block him out and I get mad and I don't talk."
He regrouped at the par-5 third, laying up instead of going for the green in two, hitting a superb chip and making birdie.
Mitchell also played smart at the par-5 18th, where his 323-yard tee shot landed on the upslope of a fairway bunker. Instead of going for the green, he hit a 59-degree wedge to leave himself 129 yards from the pin, then deliberately put his approach below the hole for a putt that dreams are made of.
Steve Waters has written about golf for newspapers for more than 30 years. He covered The Honda Classic in 2019 for The Palm Beach Post.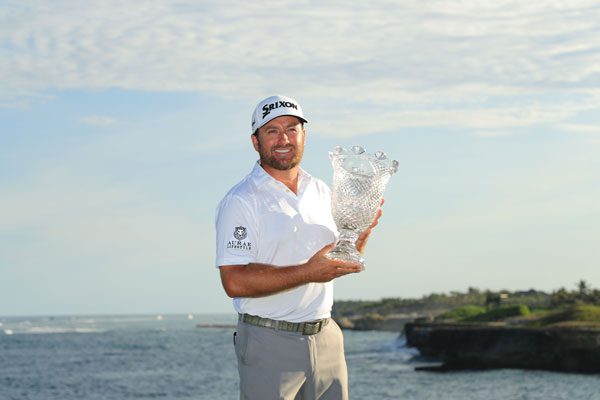 McDowell Victorious on TOUR for First Time Since 2015
By Adam Stanley
On the 17th hole at the Corales Golf Club, Graeme McDowell knew his approach was so good that he didn't even need to look.
McDowell, who captured the Corales Puntacana Resort & Club Championship for his first PGA TOUR victory since 2015, pulled ahead for good after knocking his tee-shot on the tricky 17th to mere feet and draining the birdie.
Ever-the-grinder, McDowell admitted life had got in the way the last few years. He and wife Kristin have three kids (Valyn, 10, Vale, 4, and Wills, 2). He opened two restaurants under his name. There are the homes in the Bahamas and Florida. He enjoys being a father, a restauranteur, and drinking the occasional pint of Guinness—perfectly poured, of course.
But on the golf course, McDowell had struggled.
He had fallen outside the top-125 on the FedExCup standings the last few seasons. He played the alternate-field event in Puerto Rico just a few weeks prior to try to get more FedExCup points and was in in Dominican Republic to try to do the same.
He rode a hot putter to 64s on Friday and Saturday. He was in the final group on Sunday. The McDowell smile was back, and in his unique accent—part Ireland, part Alabama, after having spent his college years playing golf at The University of Alabama at Birmingham—he said he was excited for the final-round opportunity.
His Sunday start was a dream. He was 4-under through seven. He bogeyed the ninth then made seven straight pars before he got to the par-3 17th.
He eased a 6-iron next to the hole, made the birdie, and it was a two-shot swing. His bogey on the par-4 18th mattered little. In the blistering late-afternoon island heat, McDowell was a PGA TOUR winner once again.
Although he didn't get the idyllic end-of-tournament scene he hoped for when he became a father—having his kids run out onto the green—the way he's playing, and with the confidence this win has given him, don't be surprised if he gets to have that moment sooner rather than later.
Adam Stanley is a freelance journalist based out of Ottawa, Ontario, Canada. His work can be found in a number of national and international publications.
This article first appeared in the PGA TOUR June-November 2019 issue, which can be read here.
See also: Top Five Moments in American Golf