For many of us, to say "I Love Golf" is a comprehensive statement. We love playing it, watching it, and talking about it! We may not play at a professional level, but every now and then we make a "perfect shot" and get just a taste of what it's like to be a master of the greens. Perhaps that is one of the secrets to its popularity. Golf is so relatable. Here is another very relatable aspect to the game for professionals and amateurs alike, muscle and joint pain.
These pains are very common complaints amongst all golfers, impacting the games of world-class golfers as expressed by Tiger Woods, Will Zalatoris or the recent headlines for Xander Schaouffele's early out at the Sentry Tournament. To one degree or another, we can all relate! When you're looking down the fairway, you don't want to be worried about the twinge in your back or the shooting pain you know you'll feel when you take a practice swing. If you are feeling it a little by the 7th hole, there is little doubt that it's going to be worse by the 15th.
Proper technique, stretching, and strengthening exercises are always important tools to improving your level of play and endurance. You may have only recently started hearing about another tool being used to improve your experience and enjoyment on the course. It is called Celluma Light Therapy, and it has gained significant popularity among the greater athletic community. Golfers have experienced remarkable benefits from its use, improving performance, preventing injuries, reducing recovery time, and post-game soreness.
The Pursuit of a Perfect (and Painless) Swing
Every golfer knows the physical strain that comes with repetitive swinging, which can cause muscle tears and joint inflammation. Celluma uses light therapy that is FDA-cleared to relieve muscle and joint pain by reducing inflammation and promoting better circulation. It is a shape-taking panel-style device that can wrap the focus of treatment closely and across virtually any body part. Whether an ankle sprain, a muscle strain, or an injury to the knee, wrist or back, light therapy is proven to reduce inflammation which is key in delivering much needed pain relief.
For example, an extremely common golf injury is elbow tendonitis (golfer's elbow). This injury occurs when the tendons on the inside of the elbow become inflamed from the repetitive swinging of the club. While good mechanics can offer some help in injury prevention, you also need to consider what's happening to the rest of the arm. If you have weakness in your shoulder from a rotator cuff injury or stiff wrists, your elbows will absorb the strain as you swing that club.
Celluma's patented design provides the right compliment of light energies to stimulate the release of nitric oxide which causes blood vessels to increase in diameter (vasodilation) and allows more blood flow, oxygen, and other important nutrients to be delivered to the tissues, resulting in a cascade of health benefits. Another key advantage to using light therapy is the increased production of a form of cellular energy known as Adenosine Triphosphate (ATP). This increased production of ATP activates pain relieving pathways, which then leads to a decrease in pain and inflammation and an increase in tissue regeneration. So, the increased energy in your cells promotes healing of the muscle or injured tissue—whether it's golfer's elbow, sore knees and ankles, or a strained back.
The Celluma Difference
Light therapy isn't a new concept to the golf world. The benefits are well known in athletic physical therapy circles, especially on the professional circuit. What Celluma represents is an accessible advance in the technology, by making it a more portable, lightweight, and relatively lower cost option while still meeting FDA-cleared medical device standards. Those looking to invest in light therapy no longer need to spend thousands of dollars on wall panels or commit large spaces to LED beds. Celluma's patented design and unique ability to bend and contour along skin's surface allows the treated cells to absorb even more light energy to achieve maximum restorative potential, in the comfort of your home or golf cart.
For all these reasons, Celluma provides the opportunity to expand light therapy benefits beyond pain management and healing. For example, it has been found to enhance the performance of golfers as a pre-game treatment because of the previously mentioned tendency toward increased blood flow to muscles, reduced inflammation, and enhanced tissue repair. This can result in improved muscle activation that can directly translate to an increased range of motion, swing speed, and distance control.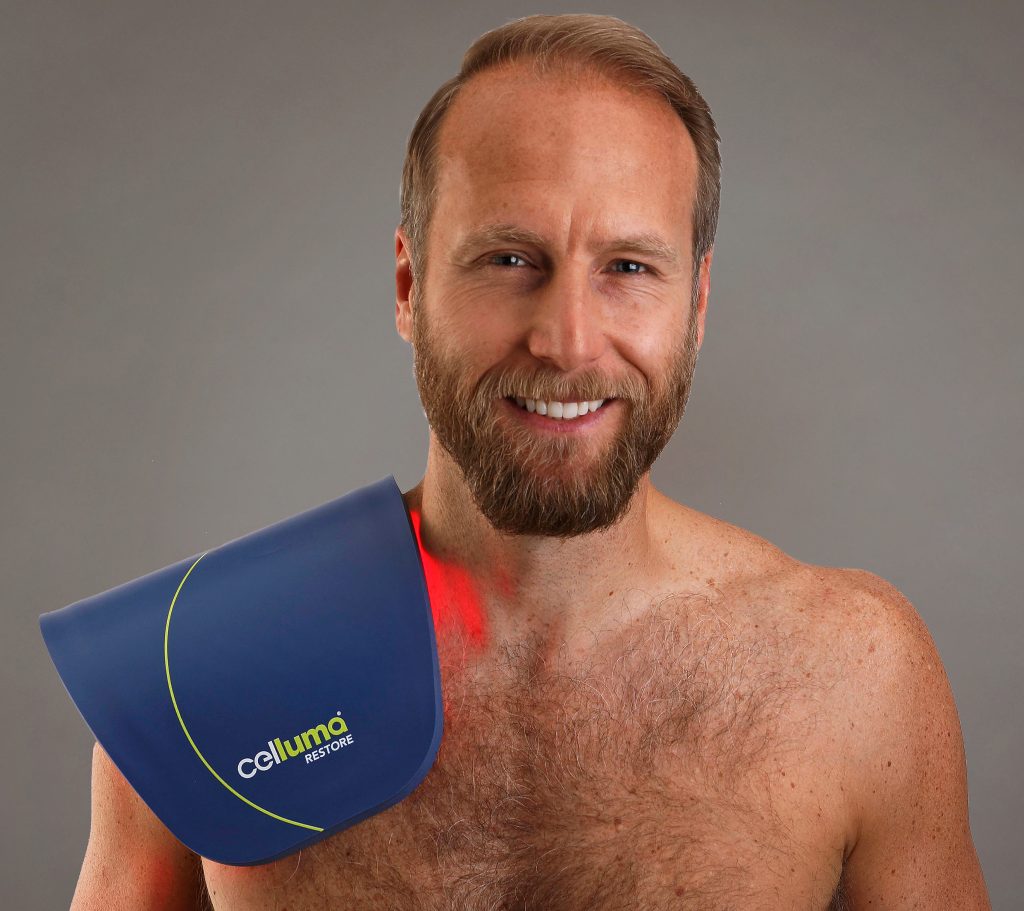 A Modern Approach to Pain Management
The accessible nature of Celluma is not just derived from its cost and portability advantages. A major advantage that is hard to overstate comes from the fact that while it is highly therapeutic, it is free from harmful chemicals and dependency risks as a more natural method of healing your body from the inside out. In fact, recent studies have shown light therapy was "found to have profound biological effects on tissue including increased cell proliferation, accelerating the healing process, promoting tissue regeneration, preventing cell death, anti-inflammatory activity, and relief of pain." What golfer wouldn't want to reap all those benefits? The same study also indicated that with "virtually no side effects light therapy it is ideally suited to become an alternative for future pain treatments."¹
Continuing your game with less fatigue, soreness, and pain can be a game changer. Feeling better on and off the course is perhaps an even greater aspiration and Celluma's rising star comes from its ability to help an individual achieve both. You don't have to be a professional golfer to afford effective light therapy, but Celluma aims to help you feel like one more often, and to feel like the best version of yourself each day.
To learn more, click here.

Reference:
European Journal of Physical and Rehabilitation Medicine, April 2022. Marcelo F. De Olivera; Douglas S. Johnson; Timothy Demchak; Shaiane S. Tomazoni; Ernesto C. Leal-Junior.
"Low-intensity LASER and LED (photobiomodulation therapy) for pain control of the most common musculoskeletal conditions"