The putter is the club you use most during your round, so to shoot good scores more often than not, you must have one in your bag that suits your swing and your eye.

It is nearly impossible to rank the best putters in meaningful order, as putting is often down to personal preference. The feel you desire in your putt, the type of stroke that you use, and of course, the choice between a blade or mallet are all very personal choices. Other, less apparent considerations such as toe hang or center shafted, milled or inset, and MOI (moment of inertia, a measurement of an object's resistance to twisting) all affect which putter would be the best for you.
In this article, we have compiled a balanced list of some of the most interesting putters on the market today, bringing attention to the features and style of each. Hopefully there will be something here which will help you choose the putter that will improve your game.
Scotty Cameron Putter – Laguna (Ladies' Putter)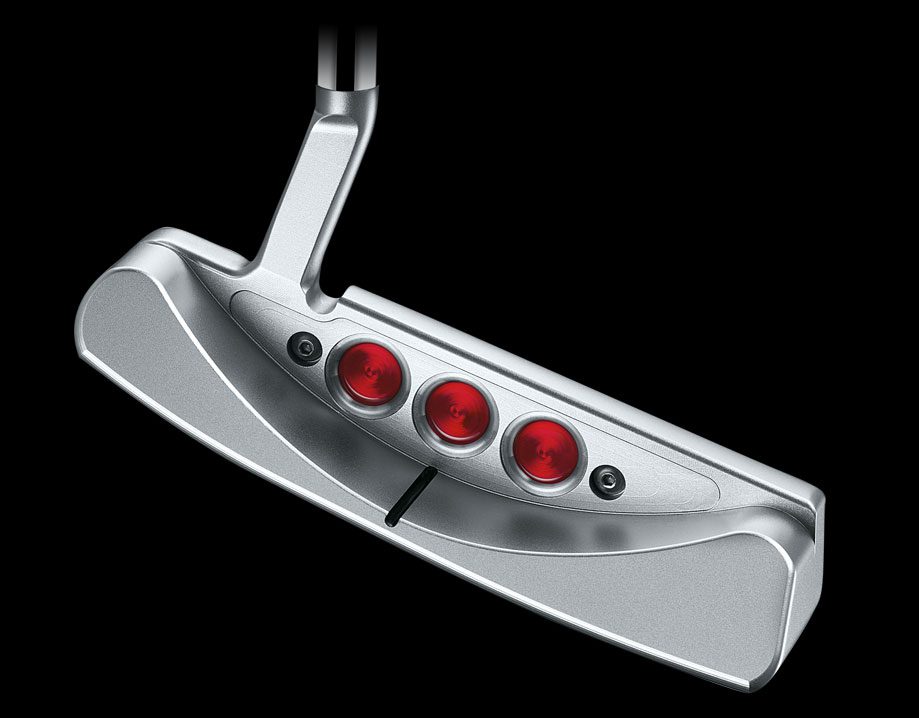 This Scotty Cameron-designed Titleist, top-of-the-range putter has incredible attention to detail. An addition to the famous Titleist Select line, this quality putter has 'vibration dampening' technology that gives a better roll and a natural feel at MOI.
You can send your Laguna putter to Scotty's Custom Shop and have it personalized with a specialty grip, headcover, stamp, paintfill, shaft band, sight line and more.
Odyssey Triple Track Double Wide
Callaway Golf sells its line of putters under the Odyssey brand name. Callaway acquired Odyssey Sports Inc. in 1997, giving it a leading manufacturer of the most frequently used golf club.
This putter has all the strengths a mallet putter possesses but has the look and the feel of a blade. The 'Double wide' reference is due to this club being double the size of a standard blade putter. Extra MOI and a lot of forgiveness come hand in hand with the extra dimension, and the 'triple track' alignment feature of the club (three horizontal stripes on a white background) make a difference for any golfer who struggles with alignment.
This feature gives you additional confidence knowing that even a miss-hit putt will travel in the right direction as regardless of the miss hit, it is at least aimed correctly.
The Odyssey Triple Track Double Wide is forgiving, yet firm, with its large sweet spot. And of course, it has that lovely sound on contact with the ball for which Calloway putters are renowned.
TaylorMade Spider X Mallet Putter
This mallet putter is one of the most used putters on the PGA Tour. The Spider X is most definitely a putter for the more advanced golfer. The path alignment feature gives the golfer visual assistance to help hit straight putts, while a fluted shaft offers a soft feel, allowing the level of control that is usually reserved for stiffer shafts.
Both accuracy and topspin are enhanced while putting with the TaylorMade Spider X, helped in part to the Pure Roll Insert on the club's face. The insert features an aluminium piece shielded by a thermoplastic-urethane layer. All seven face grooves and eight beams integrate to redirect and rebound the ball at the point of contact, giving it a crisp click and a smooth forward roll. MyTP lets you personalise traditional blade shapes by choosing from new finishes, colors, sightlines, weights and more.

Bettinardi Queen B 5 Putter
The stylish Bettinardi Queen B 5 putter doesn't just look great, with five frosted swarming bees on the sole in combination with a Tiffany blue and white colour scheme completing its elegant and refined appearance – but it putts great too, the Micro Honeycomb milled face insert ensuring a great feel at the point of impact.

Robert Bettinardi experimented with all feasible putter head weight configurations and decided that 362 grams was the optimum weight to guarantee the ultimate level of balance and stability throughout the putting stroke.
Any golfer serious about investing in their putting should seriously consider the option of this elegant, technology-packed club.

If you are looking to spend any money in the coming months on a club that will enhance your scores, the putter should be your first port of call. It's the club you use most every time you take to the course, with even the average pro using the putter over 30 times per round, with the top putters on tour averaging 27 putts per round.

You must dedicate the time to working on your stroke and discovering which putter most matches your playing style if your scorecards are to improve.