When it comes to vacation time with golf in mind, many of us head for Florida, where golf is almost a religion.
The sunshine state is home to some of the most cherished golf courses in the world, such as the Stadium Course, with its infamous 17th hole, situated at TPC Sawgrass, where the PGA TOUR's the players Championship takes place every March.
And just twenty minutes down the road, at St. Augustine, you'll find the World Golf Hall of Fame & Museum, which is part of a larger golf complex, the World Golf Village.
The Museum and its exhibits open a door onto the lives and personalities of many of the great legends of the game. Every other year a small number of deserving players join the ranks of their predecessors to become inducted as members of the World Golf Hall of Fame.
Jack Peter, President, talks to Charles Ford about the recently announced Class of 2019 and how the selections are made. But he first gives an insight into the story behind the World Golf Village at St. Augustine, while also highlighting the large number of varied attractions that await visitors; and he concludes with an upbeat view of the future of golf.
Question: Could you talk a little about the complex and the Hall of Fame's position within the complex as the main attraction?
Jack Peter: The World Golf Village and the World Golf Hall of Fame (WGHF) opened simultaneously in 1998 but the original idea for the complex really goes back to Deane Beman, former Commissioner of the PGA TOUR.
The WGHF actually had its roots in Pinehurst—it started in the early 1970s, I think 1974, and it operated there for a number of years up until the mid-to-late 80s when it was actually wound up and closed.
At that time Commissioner Beman though it would be a good thing for the PGA TOUR to pick up the baton and resurrect it, and resurrect it as a PGA TOUR Hall of Fame. Within those discussions, people took advice and talked to other organizations like the LPGA, the R&A, the USGA, and it quickly became the World Golf Hall of Fame.
So once we got the support of all of these organizations, we went about securing the land, land that we are now on. So one thing led to another and we, the WGHF, became the centrepiece of a very large development in northeast Florida.
It was fashioned somewhat after Sawgrass that established THE PLAYERS Championship and the Stadium Course—you know, there was nothing around it, but the promise was to site the PGA TOUR headquarters, build the Stadium Course, put THE PLAYERS Championship there, then have the community fill in around it. And that's kind of what's happened here at the World Golf Village and Hall of Fame.
Q: What caused you to take on the role of President of the WGHF?
JP: I started with the PGA TOUR in 1994 as the head of PGA TOUR productions called PGA TOUR Entertainment.
So my initial responsibility for the PGA TOUR was really to design and build the production company was the World Golf Village; relocate the staff from a temporary office and set up and build the studios and really put the production company on a trajectory to be able to do live programming, provide tournament coverage to certain events in addition to the ongoing expert programming for the various networks the TOUR has deals with.
So I did that and took over the Hall of Fame about 2002. So I've been at it awhile but…well, I've been at the whole thing while!
Q: With the WGHF opening in St. Augustine in 1998, I believe you were looking at quite a challenge in order to raise the status of the complex to its current international prominence? How did you go about achieving that?
JP: The initial challenge was awareness, from top to bottom; because, when the original Hall of Fame "went dark," in Pinehurst, there was a 10-year gap, so the Golf Hall of Fame just fell out of consciousness.
So when it opened, and then I took over four years later, one of my first questions to the then-Commissioner Tim Finchem, was "Well, who's talking to the Hall of Fame members? Who's talking to Arnold Palmer, Jack Nicklaus, and so on?" And he answered, "I'm not sure anybody."
So that was really my first challenge. I set out on a mission to meet all the Hall of Fame members—breakfast, lunch, dinner, a beer, even on the range—to talk to them about the Hall of Fame about the Village about what we were trying to do—and it was very educational for me and I figure it was enlightening all round because it also opened up some eyes for the Hall of Fame members because many of them didn't know…because the Hall of Fame members are spread far and wide, not everyone got here to see it.
So that was really the first challenge and then we have the ongoing challenge to make it relevant regarding the programming and also the ongoing challenge is to make sure it's the "World" Golf Hall of Fame so that it has a truly global perspective and audience.
So I've spent a fair amount of time in other parts of the world with golf communities to educate people about what we're doing and explaining the vision.
Q: And today the World Golf Village is set up as an ideal golf vacation destination, with hotels, golf courses, everything a vacationer would expect, perhaps more than they would expect…
JP: Yes, the Hall of Fame is the centrepiece of a small resort. There are hotels, there's the Murray Bros flagship Caddyshack restaurant, there's a couple of world-class golf courses, the beach is just twenty-five minutes away, Sawgrass is twenty-five minutes away, so it's really a resort destination unto itself, with lots of different things to do. We own and operate our own IMAX theater, so we have a nice mix of documentary films and big Hollywood blockbusters…Star Wars, etc. There's plenty of choice within the complex.
Q: And are you seeing steadily increasing or fluctuating visitor numbers over the last 10 years or so as a result?
JP: The visitation numbers really go up and down—we seem to follow the tourism trends in the state of Florida.
This year we're actually up, but the last two years we were kinda down, but we have two hurricanes each year! So if you look at tourism in Florida, we track exactly the same. Now, we're trending up, but some years we're down.
So that's a tough one for us—it's not a straight line, let me tell you that!
Q: On your event calendar for November, I see there is a good family opportunity for a visit, with kids-go-free for that month, and you also have a Veterans Weekend at the Hall of Fame, starting 10 November. Can you mention any standout initiatives for next year, 2019?
JP: Well, we're an international institution on one hand for the game of golf, and we have relationships in Tokyo and South Africa, but it's equally important for us to be a good neighbor in northeast Florida, indeed the whole of the southeast part of the United States, so we spend a fair amount of time promoting the Hall of Fame on a very local/regional basis.
So those events like the Veterans Weekend over a weekend in November are designed to really take advantage of the military audience (that weekend in particular), because Jacksonville has a very large military population—there are three different military bases spread in and amongst the area.
So we want to be a good neighbor, so we open up to the community, sometimes for free, sometimes with discounts, and we do the same things throughout the year, whether it's Mother's Day, or Father's Day, or the 4th of July celebrations, and so on.
Q: "The mission of the World Golf Hall of Fame is to celebrate golf and preserve the legacies of those who have made it great." How difficult, or perhaps how easy, is it to pick those players who have made golf great?
JP: We just recently finished that process and announced the Class of 2019 [October 10, 2018]. I wouldn't say it's difficult or easy…I would say it's thoughtful.
Everyone that makes it to the list as a finalist is arguably Hall of Fame-worthy. So the debate amongst the sixteen members of the Committee becomes "where is an individual in their life and career; is it somebody who for some reason has been overlooked and oh-my-gosh should get in no questions asked; if it turns into a fairly healthy debate about each name on that list, then at the end of the day I have a phrase for all those people that didn't get in: "the answer's not no, it's not yet."
Q: The new inductees to the World Golf Hall of Fame announced each year always causes great interest—perhaps even some controversy sometimes, regarding the choice of players to receive this lifetime recognition, as announced in mid-October. For example, one commentator thought the 2019 selections were "struggling to remain relevant" and that "World Golf Hall of Fame didn't do itself any favors with its latest inductees", and calling into question the timing of the choices of inductees, with some players being recognized posthumously.
Would you care to respond to these comments and say something about the selection process?
JP: Well, I take that as just one person's opinion, frankly. We have received overwhelmingly positive reviews for the Class of 2019.
So, I welcome the debate, I welcome the opinions. I don't think we are struggling to remain relevant, I would argue that and, again, I think the Class of 2019 is a very strong very diverse Class.
You've got Retief Goosen from South Africa; Jan Stephenson from Australia; Billy Payne (U.S.A.) who has done a lot for the game of golf around the world, using the resources of Augusta National; Dennis Walters (U.S.A.) who is such an inspirational story…we should tell this story. And then of course Peggy Kirk Bell (U.S.A.) who was literally one of the founders of the LPGA.
The Committee's job is to look at it objectively through the lens of the whole world, and I think that's what we came up with.
Q: We see the inductees' great career achievements in all their glory exhibited within the Museum. You must have a certain pride in the Museum in its current format because you were instrumental, I believe, in making significant improvements and enhancements to the Museum you took on in your role as President?
JP: Well I am proud of what we've accomplished. I've been blessed with being charged with running the show here. I think I'm most proud of our story telling.
The Locker Room exhibits are a highlight. To give people a glimpse into a professional golfer's life, outside of the competitive arena, I think is a real testament to the Hall of Fame and our staff here.
People know about Jack's major championship record—fourteen major wins, etc.—but they don't necessarily know about his passion for fly fishing, for example, or that he was actually the Honorary Chairman of the Fly Fishing Federation. So giving people an insight behind the curtain of the lives of these players, makes them more human, more approachable. That is really one of strong suits.
Q: When I visited the Museum, some years ago now, I thought the inductee exhibits were particularly strong in the way they conveyed these great players' personalities. That must have been an important aim?
JP: Yes, we fashion ourselves as storytellers more than anything else. People like the old golf clubs, but they want to know who held it and what was the result and what happened. So we pay particular attention to the storylines.
Q: How do the exhibits, the individual items, for example, how do they find their way to the WGHF Museum?
JP: There are two tracks of entry. One is, for example, now that we've announced the class of 2019, we will work with all of those inductees, creating individual exhibits for each.
So we'll sit down with Retief, go to his house, meet his wife, talk about his career, and see what stories might be of interest to the fan base. It's a bit like making a movie where you write out a script and see what sort of artifacts will support the script and then you lay it out with the artistic direction and the fabrication, and then it comes together.
The second entry track would be, if we take the Ryder Cup as an example, so in advance of that Ryder Cup we would talk about a Ryder Cup display and those Hall of Fame members who are due to play, in order to give people a bit more of the historical context.
So we're very cognitive about the schedule and the calendar, about the global golf calendar, because we'll do the same thing for the Solheim Cup or all major events, to stay relevant. It's a true creative process, it's very much like making films—which goes back to my background with PGA TOUR Entertainment.
Q: How do you see the future of golf as a leisure pursuit, being so much reliant, as it must be, on attracting the young generation?
JP: I'm of the mind that golf itself is very healthy. I think the correction and closure of golf courses, certainly in the United States, if they're over developed, and I think history will show that this was just a necessary correction.
But I think the number of avid golfers in the United States is holding firm; I think there are significant growth markers around the world, particularly now that golf is in the Olympics—whether it's South America, certainly throughout Asia—people are going to be exposed to the game, which only bodes well for the future of the game.
But that said, there needs to be, and I think it's happening, golf course owners and operators adapting to "the culture of the day." Making it easy for people to play 6 holes; make it easy for people to play even 3 holes. So that it's not such a focus on: you've got to play 18 holes, you've got to post a handicap.
And, really, making it fun, making it more fun for people—relaxing the dress codes a little bit. You want people to enjoy the game, plus, it's a very hard game, so you've got to make the barrier to entry easier. And be more welcoming.
That's happening, I'm seeing that. I've seen top golfers certainly helping with that. It's a different form of experiencing golf, but if people have a good experience of top golf, maybe they'll come over to a golf course and try it. All of that bodes well for the game.
Q: And finally, with the business of golf so important for the contribution it makes to the nation's economy, do you feel encouraged by the initiatives being taken—such as We Are Golf and National Golf Day—to raise awareness of the importance of the golf industry?
JP: for a long time the business of golf was a sort of background—as a part of tourism, and so on. But, we employ a lot of people—it's a real industry.
So I've been involved with Golf 20/20 and We Are Golf since its inception and raising that awareness has been appropriate and I think it's working. And I think it's necessary.
---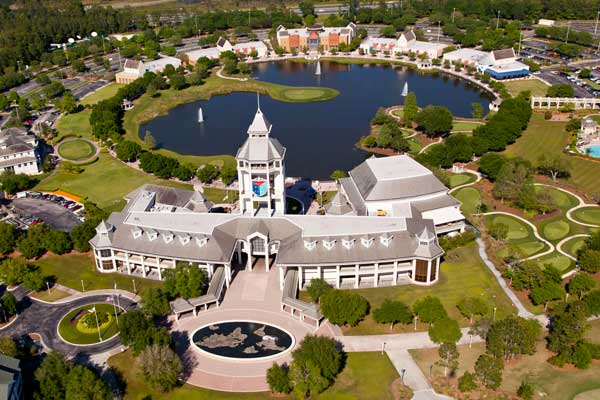 PLAN A VISIT 
World Golf Village offers a variety of well-appointed accommodation options to make your stay at this Florida golf resort relaxing and enjoyable. Let us create the ultimate golf vacation for you. From top-rated accommodations, to championship courses and more, the World Golf Village has everything you're looking for in your next golf vacation.
www.worldgolfhalloffame.org/visit-the-museum/world-golf-village/
www.worldgolfvillage.com
Getting there
Directions to World Golf Village
The World Golf Village is conveniently located in Northeast Florida, 20 minutes south of Jacksonville and 8 miles north of historic St. Augustine off Interstate-95 at exit 323, International Golf Parkway.
From Jacksonville
From Jacksonville or the Jacksonville International Airport, take I-95 south to exit 323, International Golf Parkway. Following the exit, turn right onto International Golf Parkway, and right again into the main entrance to World Golf Village.
Then follow signs to your destination of choice. Parking for the World Golf Hall of Fame is located behind the PGA TOUR Entertainment. Shuttles are available on the Walk of Champions to take you to the museum.
From St. Augustine/Daytona
From Daytona, St. Augustine or south Florida, take I-95 north to exit 323, International Golf Parkway. Exit left onto International Golf Parkway, then make a right into the main entrance to World Golf Village and follow signs to your destination of choice.
Parking for the World Golf Hall of Fame is located behind the PGA TOUR Entertainment. Shuttles are available on the Walk of Champions to take you to the museum.
Access by Air
The World Golf Village is centrally located between two major commercial airports, Jacksonville International Airport and Daytona Beach Regional Airport.
Jacksonville International Airport (JAX) is approximately a 45-minute drive from the World Golf Village. Daytona Beach Regional Airport (DAB) is approximately a 55-minute drive to World Golf Village.
If you are coming from the Orlando International Airport, take I-4 east to I-95 North to exit 323, International Golf Parkway.
Exit left onto International Golf Parkway, then make a right into the main entrance and follow the signs to your final destination. Driving time should take approximately 90 minutes.
See also: World Golf Hall of Fame Class of 2019 New Members