Despite the disrupted season, PGA TOUR Champions 2020 proved to be a stage on which timeless talents can shine, highlighted by an unstoppable trio—Jim Furyk, Phil Mickelson and Ernie Els
As entrances go, one could safely categorize Jim Furyk's first PGA TOUR tournament as the definition of forgettable. Oh, he did prevail in a playoff against a journeyman named Alan Pate—but that was in a Monday qualifier and merely earned him a spot onto the alternates list for the 1988 Northern Telecom Open.

Three mornings later, the 18-year-old Furyk was mingling around the practice area at TPC Starr Pass in Tucson, Ariz., likely planning for his return to the University of Arizona campus, when a flood of withdrawals came forth.
Meeting the challenge

The University of Arizona freshman got the nod. And while you might say he didn't exactly answer the call—he shot 76-75 to miss the cut—neither did Furyk come away discouraged. There was loads of room for improvement and plenty of time to learn, and if you need a sense of how utterly brilliant did Furyk meet this challenge over the next few decades, consider the contrast to his next pro golf entry, this one 32 years later, in July of 2020.

As Furyk prepared for his transition onto PGA TOUR Champions, there was no need of a Monday qualifier, no desperation playoff to get onto the alternates list, nor did it take a parade of withdrawals to squeeze into the field. Instead, in the aftermath of his 50th birthday in May, Furyk was confirmed royalty, arguably a future World Golf Hall of Famer, winner of 17 PGA TOUR tournaments and the 2003 U.S. Open.

It was a welcome mat that had been dutifully earned.

With a graciousness that has always enveloped him, Furyk showed his appreciation in a manner that surprised no one. He won his first two starts.
Emphatic, yes. But there was more juice involved. The Furyk wins were sandwiched around a Phil Mickelson victory in his debut and all that summer sizzle had been preceded by Ernie Els' first PGA TOUR Champions triumph in March, in just his third start.

Three 50-year-old megastars throwing down victories in quick fashion! A definitive exclamation point, for sure. Let a rousing new chapter unfold.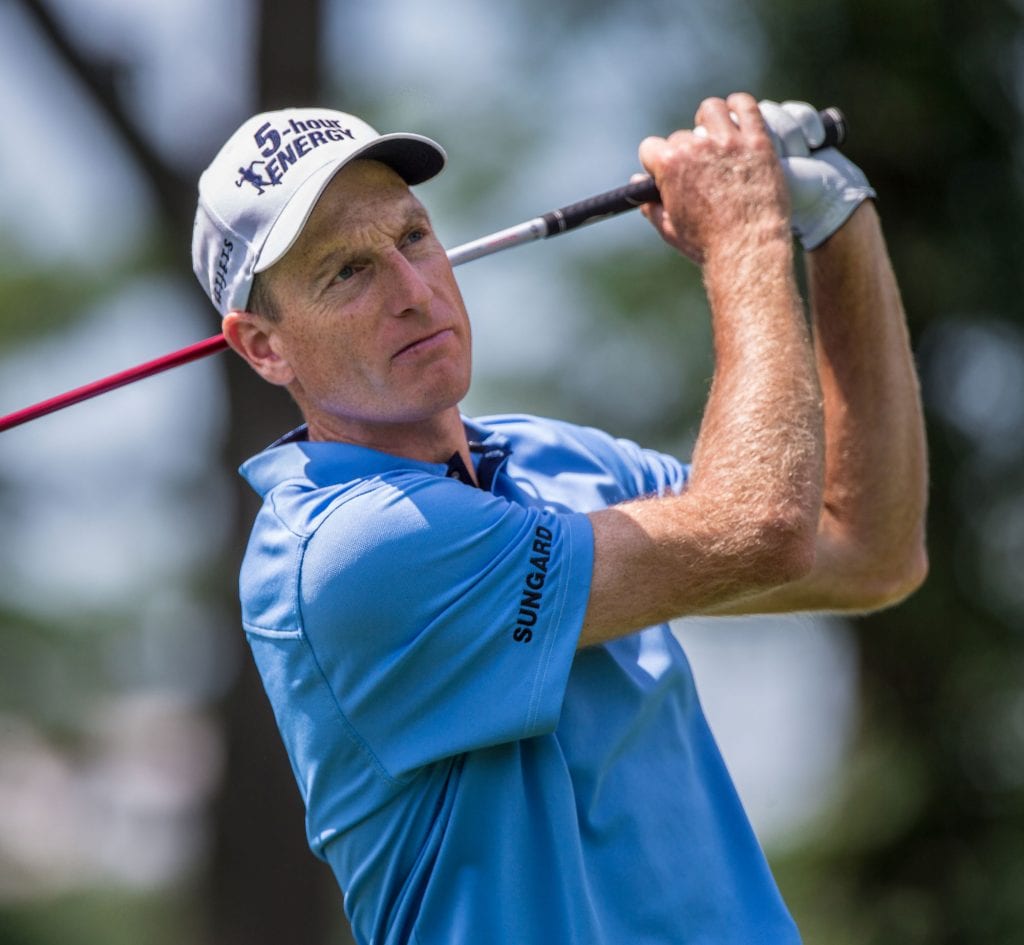 A prominent trio

As dominating storylines go, rookie wins by Els, Furyk and Mickelson—a trio whose roots in professional golf date to the George H.W. Bush administration—should stand as a prominent one.

Yet, when the year 2020 is chronicled, likely every recollection will start with the COVID-19 pandemic. That is true, too, with the PGA TOUR Champions season and for a sense of how disjointed it was, consider this: Those maiden wins by Els, Furyk and Mickelson came in just a five-tournament stretch, but played out over a five-month period.
The season halts

Due to the coronavirus pandemic, the season came to an abrupt halt following Els' victory at the Hoag Classic in Newport Beach, Calif. It was March 8, only five tournaments had been played, and it would be four-and-a-half months before competition could be resumed.

That play returned for The Ally Challenge at Warwick Hills Golf & Country Club in Grand Blanc, Mich.—a course on which many of these players had competed in PGA TOUR tournaments for years—was comfortable. What also provided an antidote to anxiety was a firm belief that the membership knew what was at stake by playing during a pandemic.
Back on track

"We're thrilled to be back out here, but we're also on a high wire and we can't afford to fall," said Miller Brady, President of PGA TOUR Champions. "We have to do the right thing."

Credit a membership's veteran perspective for validating Brady's faith and for accepting the challenge. They accepted the parameters to the COVID-19 "bubble" lifestyle and met health guidelines. On the golf front, they unanimously embraced the decision to cobble together a 15-tournament season in 2020, then parcel it with 25 events in 2021 for a 40-tournament wrap-around package that will crown a Schwab Cup champion in fall of 2021.

Against a backdrop of a world turned upside-down, competitors on PGA TOUR Champions shone brilliantly and if you think they didn't savor the opportunity or appreciate the trappings, take a triple bogey.

When PGA TOUR Champions returned from the long break, it was Furyk who delivered momentum with a rousing victory. It set in motion a run of quality performances—Jerry Kelly won the Bridgestone SENIOR PLAYERS Championship; Shane Bertsch and Mickelson prevailed in the hugely popular back-to-back events in the Charles Schwab Series in Ridgedale, Mo., at the Bass Pro Shops Big Cedar Lodge and at Ozarks National, respectively; the dynamic Miguel Angel Jiménez captured the Sanford International; Furyk returned to another venue he's passionate about, Pebble Beach, and won the PURE Insurance Championship; and upon a leaderboard top-heavy with Hall of Famers, Els slam-dunked a long birdie putt at the final hole to edge Colin Montgomerie by one and Vijay Singh by two at the SAS Championship.
Special stuff

Win, place and show with Els, Montgomerie, and Singh? Special stuff, and whereas only a few weeks earlier a layer of uncertainty had enveloped much of the sports world, within the confines of PGA TOUR Champions, excitement was percolating.

The arrival of "the kids" had plugged in the electricity.

"I want to be out there in that atmosphere. I miss some of those guys," Furyk said, acknowledging that he was inspired to see those victories by Els at the Hoag and Mickelson at the Charles Schwab Series at Ozarks National. "I think that's great for the Tour."

But it wasn't lost on Furyk what could be the most flavorful slice of the PGA TOUR Champions—it remains a stage on which timeless talents can shine. Specifically, Bernhard Langer, who, before the schedule was halted for COVID-19 reasons, won the Cologuard Classic in Tucson, his 41st triumph.
"I guess," quipped Furyk, "Bernhard is probably everyone's rival. He's been kicking everyone's butt for 10 years."

If Langer winning at age 62 offered that slice of PGA TOUR Champions that is easy to embrace, what galvanizes the landscape is the enthusiasm that these 50-year-old "newbies" have brought with them.

Mickelson, who shot 22-under and went wire-to-wire and was a sensation on Twitter, said, "I really enjoyed playing here, enjoyed seeing the guys again." To show that he meant it, Lefty was quick to enter a second event, the Dominion Energy Charity Classic. He won again.

Els has said on countless occasions that he's thrilled to be among his peers and Furyk looks around and sees other "youngsters" such as Mike Weir and K.J. Choi joining Els and Mickelson and Steve Stricker and Retief Goosen and feels at home.
Personal commitment

"They were all buddies of mine, all guys that I really respected and were similar in ages," said Furyk. "It's kind of a nice niche."

What accentuates the outlook for PGA TOUR Champions is the personal commitment that Furyk and Stricker are making. The latter is the host of the American Family Insurance Championship in his native Wisconsin, while the former will be out in front of the Constellation FURYK & FRIENDS in October 2021 at Timuquana Country Club in his adopted hometown of Jacksonville, Fla.

"This is going to be a home run," said Constellation president Mark Huston. "What really sold us was the personal interest Jim and (wife) Tabitha have in their community."

The vested interest is a win-win for all concerned. It will greatly enhance the charitable giving power of the foundation that Jim and Tabitha Furyk run, plus provide the Tour with a marquee face for many tournaments.

"It is more of an incentive to play [PGA TOUR Champions] full time sooner rather than later because I have an event out there, absolutely," said Furyk.

Given the way the season has played out since the return from COVID-19, Furyk can expect a jam-packed field of stars. 

By Jim McCabe