Tiger Woods and Phil Mickelson will give golf fans unprecedented access to the action when they duel in the Tiger vs Phil: The Match during Thanksgiving weekend in November.
The $9 million clash will happen during the holiday weekend; golf lovers will experience a head-to-head like never before when Woods and Mickelson battle it out at Shadow Creek Golf Club in Las Vegas.
While the clash between these two fan favourites has been on the cards for some time—the idea was most recently brought up when Woods and Mickelson were drawn in the same three-ball at the U.S. Open at Shinnecock Hills— the actual format of the duel and what fans can expect has been kept largely under wraps.
A different golf experience
But it appears that there will be no ropes, allowing lucky fans on the course at Shadow Creek to get closer to the action than ever before.
Those purchasing the pay-per-view subscription to watch the showdown will also get a better experience than normal with both Woods and Mickelson wearing microphones and giving a full impact of each shot.
"It's an opportunity for us to bring golf to the masses in prime time during a period where we don't have much going on in the world of golf," Mickelson told ESPN. It's a way to show a side you don't normally see by having us mic'd up to hear some of the interaction between us."
Tiger vs Phil: The Match – Players joke on social media
The pair have already been ramping up the talk ahead of the winner-takes-all contest, with some friendly and competitive posts shared on Twitter.
Replying to Woods' tweet confirming Tiger vs Phil: The Match in which the 14-time major winner posted "It's on", Mickelson said: "I bet you think this is the easiest $9M you will ever make."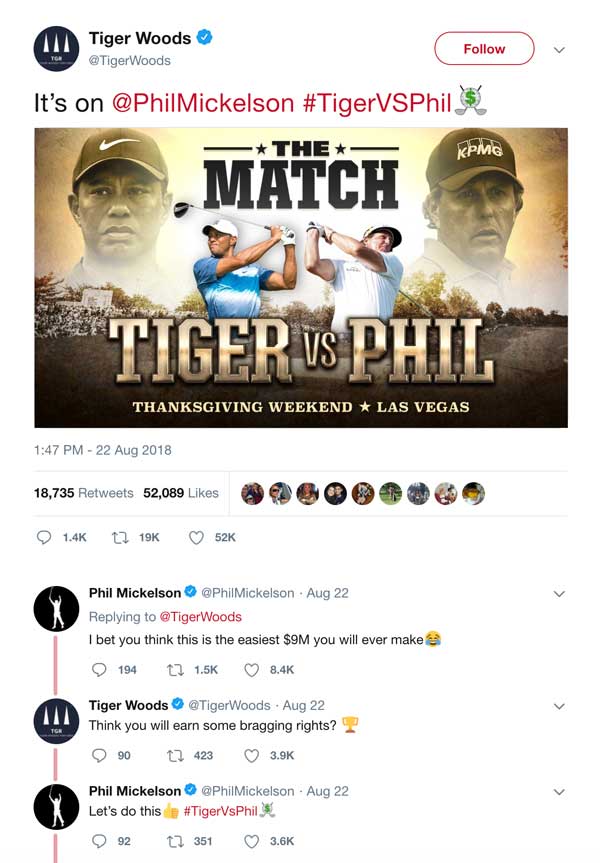 Who will win?
Woods has recently made an impressive return to action this year and heightened interest in the sport once again when challenging for victory on the final day of majors. He triumphed at the season-ending TOUR Championship, his first win since 2013's Bridgestone Invitational.
His last major success was a decade ago in the 2008 U.S. Open.
Mickelson's most recent victory was this year's World Golf Championships-Mexico Championship. His last triumph in a major was The Open Championship in 2013.
Nevertheless, Tiger vs Phil: The Match promises to be an exceptional watch. both Woods and Mickelson remain two of golf's most familiar names and faces and it is for that reason that there is significant interest in seeing the old foes lock horns in a one-on-one battle in Las Vegas.
Older golf fans will remember Shell's World of Golf, which was first held in 1961 to 1970 and returned in the 1990s and featured clashes between Nick Faldo and Greg Norman and Jack Nicklaus and Arnold Palmer, among others.
There's also been similar concepts with Woods taking on David Duval and then Sergio Garcia, Nicklaus and Lee Trevino battling it out and even Annika Sorenstam and Karrie Webb getting in on the act.
See also: Tiger Woods Bags First Win in Five Years
Tiger Woods' New Irons Revealed