On March 17, the PGA TOUR released a statement regarding additional tournament cancellations due to the ongoing health crisis related to the Coronavirus pandemic.
Event Cancellations
After already revealing news of the canceling and postponing of THE PLAYERS Championship at TPC Sawgrass, and all events through to the Masters, the new statement reveals the cancellation of several more events.
The statement reads:
"With the most recent recommendations from the Centers for Disease Control, the World Health Organization and the Office of the President of the United States, the PGA TOUR will now cancel four additional events: RBC Heritage (April 13-19); Zurich Classic of New Orleans (April 20-26); Wells Fargo Championship (April 27-May 3); and AT&T Byron Nelson (May 4-10)."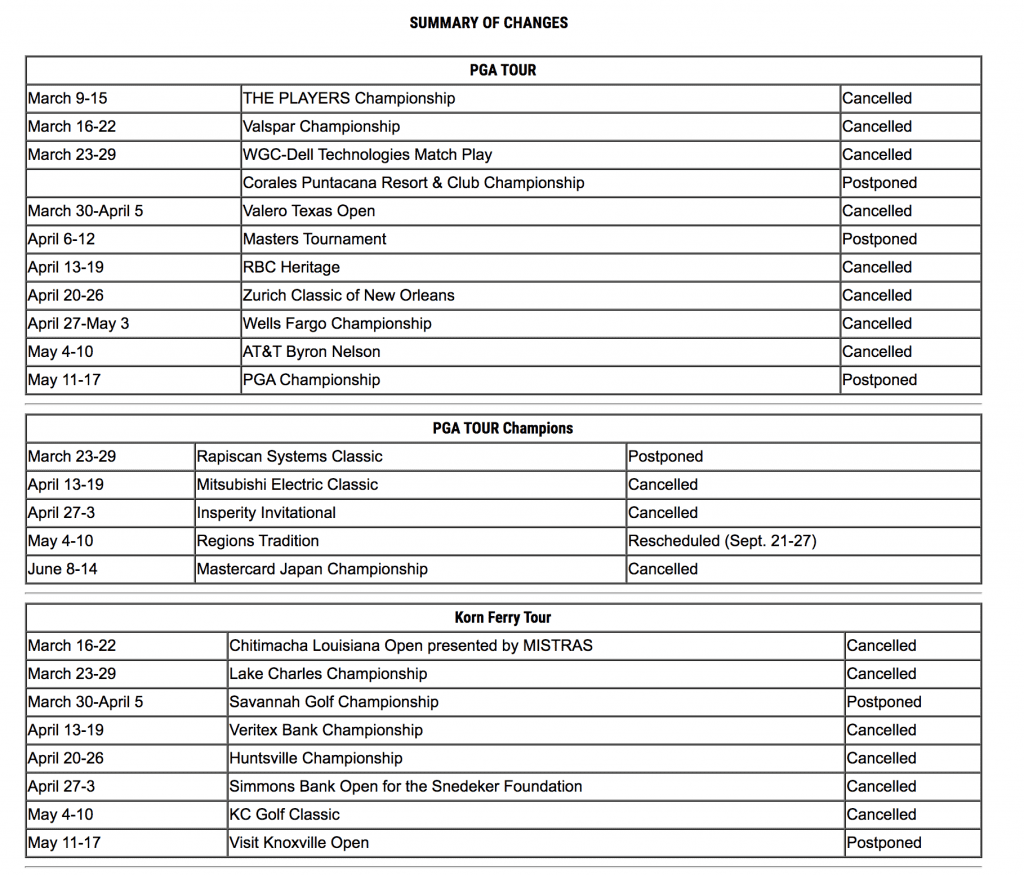 A chart of all of the event changes, including international events, can be found on the PGA TOUR website.
See also: Coronavirus Causes Players Championship Changes
Players from Italy Caught Up in Coronavirus Incident at Oman Open
PGA TOUR Series-China and LPGA Tour Events Cancelled Due to Coronavirus
Next Steps
With the coronavirus pandemic affecting all events worldwide, the PGA TOUR advises everyone to practice safe health habits to ensure people reduce the spread of COVID-19.
According to the Centers for Disease Control and Prevention, people can use these steps to flatten the curve and protect yourself from spreading or getting the disease.
Protecting Yourself
Wash your hands with soap and water for at least 20 seconds.
Avoid touching your face – especially with unwashed hands.
Distance yourself from others.
Protecting Others
Stay home when you are feeling sick.
Cover your coughs and sneezes using your elbow.
Wear a facemask when you are feeling sick.
Clean and disinfect dirty surfaces.
The PGA TOUR team is working with the tournaments and affected partners to bring the events back at full strength in 2021. New dates will be available on the PGA TOUR website.