Two numbers—18 and 82—have been omnipresent in the evolving story of Tiger Woods since he became the dominant golfer of his generation. With his fifth Masters win still fresh, those numbers became even more relevant.
Woods' latest win at Augusta was his 15th professional major championship, leaving him three short of the bar set by Jack Nicklaus. The victory was also the 81st title of his PGA TOUR career, one shy of the total amassed by Sam Snead, who won tournaments in four decades. Both numbers, at one time considered unapproachable, are now within his grasp.
In earning his first green jacket since 2005, Woods set the agenda for the sport's talking point the rest of the season. Columnists and commentators, bloggers and broadcasters will be pontificating on when and where Woods will next make his mark.
The probability of Woods attaining either goal seemed very low two years ago given the physical and emotional hardships that plagued him for a nearly a decade. Before having spinal fusion surgery in April 2017, Woods could barely walk or sit down. He was more concerned with being able to play with his two children than return to TOUR-caliber golf.
"Luckily I had the procedure on my back, which gave me a chance of having a normal life," Woods said. "Then all of a sudden, I realized I could actually swing a golf club again."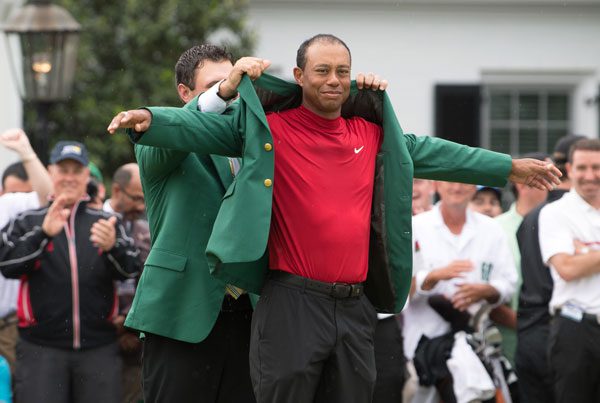 He took baby steps in his careful comeback. He became a contender again in 2018, getting in the mix at The Open Championship and the PGA Championship. He finally broke through to win the TOUR Championship in front of a massive crowd of adoring and emotional fans. The victory was equally emotional for Woods considering it was his first since 2013 and the 80th of his career.
"To get to that 80 mark is a big number," he said afterward. "Sam is still ahead of me. I've still got a chance to play some more golf, and maybe I'll keep chipping away at that number and maybe surpass it."
The biggest step came when he won the Masters in April, when Woods prevailed over a crowded leaderboard on a dramatic Sunday. It was victory No. 81—and his 15th major title. As was the case at last year's TOUR Championship, Tiger's performance also let the younger generation of champions know that Woods wasn't finished just yet.
Two-time U.S. Open champion Brooks Koepka, who was runner-up at the Masters, didn't need to be convinced. He said, "This is definitely one of the greatest comebacks I think anybody's ever seen—81, 15. I think 18 is a whole lot closer than people think."
Age may have eroded the enormity of Snead's lifelong achievement of success. It has been 54 years since "Slammin' Sammy" won his final event and 17 years since he died just shy of his 90th birthday. Other than Woods, no one has come close to challenging the magical win total. Nicklaus won 73 times, followed by immortals Ben Hogan (64) and Arnold Palmer (62). The next-closest active player is Phil Mickelson, who has 44 victories.
As long as his back remains healthy, Woods, 43, has the opportunity to reach both numbers.
"I've more than anything just proven to myself that I can play at this level again," Woods said. "I've worked my way back into one of the players that can win events."
Woods won't alter his plans to intensly pursue the wins record. He will continue to play a limited schedule, competing in the major championships, the World Golf Championships events and the FedExCup Playoffs, as well a few of his hand-picked favorites.
"I'm going to pay a little less than I did last year," Woods said.
The Nicklaus record is a longer reach, especially for someone who just endured an 11-year dry spell between major titles. Woods wasn't ready to discuss it after winning the Masters, preferring to enjoy the moment. But that hasn't stopped others—including his fellow competitors—from restarting the speculation.
"As a fan, I love it," Koepka said. "I think it's awesome. I'm glad he's back."
Koepka could have been speaking for lots of people as the Tiger Era was extended, with a milestone just around the corner.
This article first appeared in the PGA TOUR June-November 2019 issue, which can be read here.
See also: "Greatest Comeback": Tiger Woods Wins 2019 Masters