Big Cedar Lodge Resort is the home of world class golf courses.
In the Midwest region Big Cedar Lodge in Ridgedale, Mo., is America's premier wilderness resort, ranked as one of the top resorts for families in America. The property also compasses Top of the Rock, Buffalo Ridge, and the new Gary Player Short Course.
Johnny Morris, along with Jack Nicklaus, Tom Watson and Arnold Palmer have spent 7½ years creating Top of the Rock, one of the most amazing golf experiences ever developed.
Top of the Rock, the first Par 3 course to be included in a PGA TOUR-sanctioned event, features nature and golf at its finest. Perched high above Table Rock Lake, the peaceful waterfalls, wandering creeks, bass-filled ponds and pristine lakes of Top of the Rock complete a true celebration of nature, the Ozarks and the game of golf. The experience includes Top of the Rock, a Jack Nicklaus Signature Course, an Arnold Palmer-designed Practice Facility and Arnie's Barn, a magnificent 150-year-old barn relocated from Arnold Palmer's backyard in Latrobe, Penn., complete with historic photos and memorabilia from Palmer's legendary career.
Located a few miles from Top of the Rock, Buffalo Ridge Springs Golf Course is an 18-hole championship course designed by renowned architect Tom Fazio. The course measures 7,036 yards from the back tees to 5,032 yards from the forward tees.
Buffalo Ridge Golf Course has been named the No.1 public course in Missouri by Golf Magazine and also given as one of the Top 10 Missouri Courses by Golf Digest since 2001. Buffalo Ridge includes challenging approaches, water features and bunkers while incorporating indigenous natural-like native grasses and free-ranging buffalo from nearby Dogwood Canyon Nature Park.
Expectations run high with the opening of the Gary Player world-class short course. The new layout will add to the already impressive variety of golf offerings at Big Cedar Lodge, home of the Bass Pro Shops Legends of Golf at Big Cedar Lodge, a popular PGA TOUR Champions tournament.
The resort
Located around 10 miles south of Branson, MO, Big Cedar Lodge treats guests to refreshing mountain air and scenic vistas. This remote haven of natural beauty and luxury nestled in the Ozark Mountains of Missouri has, in the past, been home to native Indian tribes. Today, log cabins nestled among trees offer guests unparalleled privacy and comfort while grand lodges provide stunning views over the famous Table Rock Lake. The resort—which encompasses Top of the Rock and Dogwood Canyon Nature Park—provides a full-service marina, horseback riding, world-class fishing, golf and trails for walking, biking and hiking.
Activities
Whether you're looking to relax or spend some time in the great outdoors, Big Cedar Lodge offers a wide variety of activities suited to every guest. A state-of-the-art fitness center offers everything from an 11-station machine workout circuit to Olympic-style free weights. A scenic 5k trail will allow fitness aficionados to soak up the fresh mountain air whilst touring the heart of the resort. This family-friendly destination offers its youngest guests a playground, paddleboats on Table Rock Lake, miniature golf, kiddie pools and board games.
Attractions at Big Cedar Lodge
Big Cedar Lodge was purchased in 1987 by Johnny Morris, the founder of Bass Pro Shops. He first envisioned the area as a fishing camp for employees and Tracker Boat customers. However, inspired by the beauty of Table Rock Lake, he decided instead to build and create a resort for families to reconnect with nature. The resort was established as a place where conservation, preservation and family traditions combine.
Today, the resort offers guests access to world-class recreational facilities that include the Top of the Rock outdoor destination, the Bass Pro Shops headquarters in nearby Springfield, Dogwood Canyon Nature Park and the all-new Bass Pro Shops' Outdoor Shooting Academy.
Unwind and de-stress
Big Cedar Lodge features a brand-new 18,000 square foot world-class spa. Complete with natural stone floors, handcrafted stained glass accents, and timber ceilings, Cedar Creek Spa offers its guests 11 luxurious treatment rooms—each with their own fireplace—as well as hot spas, steam rooms and, an indoor grotto pool and private open-air showers. Visitors to Big Cedar Lodge's spa will also be able to enjoy underwater lounges with full-body massage jets, secluded coves and experience the benefits of cold therapy of Cedar Creek's Ice Room. In addition to this, the beauty salon is equipped with massaging pedicure chairs, sofas, and an old-fashioned barber chair for men's grooming.
Events
For guests looking to book their next big event, Big Cedar Lodge offers a beautiful private suite decorated with stone top vanities, window seats, and a private patio and an outside fireplace, perfect for any occasion. Whatever the mood or occasion, Cedar Creek Spa is an ideal addition to your stay at Big Cedar Lodge.
Big Cedar Lodge has the space and facilities to host gatherings of all kinds—from intimate family reunions to corporate meetings and trips. Meeting rooms of varying sizes can accommodate up to 1,000 people; conference, theater, banquet and classroom-style seating arrangements are also available, as are expert technicians and conference professionals.
Big Cedar Lodge, a gorgeous mountain setting, offers spectacular views from more than twenty exceptional venues. For couples wanting to celebrate their big day, wedding locations at Big Cedar include the Big Cedar Lodge, Top of the Rock, Integrity Hills and Dogwood Canyon Nature Park. All of these picturesque locations offers a distinctively unique and enchanting experience.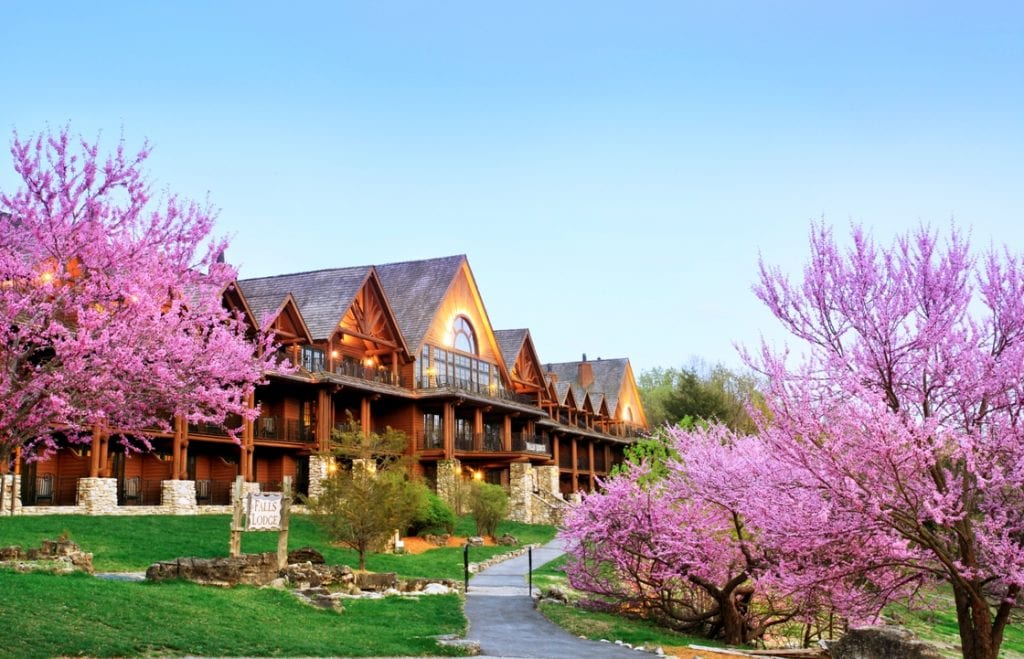 See also: Read the review of Gran Melia Golf Resort, Puerto Rico