In years past, debilitating back or neck pain has too often been the end of a PGA golfer's career. Headlines like "Is this the End?" or "Will He Ever Be the Same?" have become the norm for PGA tour professionals struggling with the career-threatening discomfort brought on by spinal disease or injury. Recently, however, one company is proving that there is hope for these individuals—and not just hope for their careers, but hope for their daily lives, as well.
Centinel Spine is the developer and manufacturer of two spinal device technologies that have played a key role in the recent unbelievable comebacks of three PGA champion golfers: Tiger Woods, Rory Sabbatini, and Brian Gay. The first technology, STALIF®, is a market-leading spinal fusion device platform built upon over 30 years of clinical history and success, with almost 70,000 devices implanted worldwide. The other, prodisc®, is a family of motion-preserving total disc replacement devices with its own 30+ year history of clinical evidence, supported by over 540 published studies and more than 125,000 implantations around the world. These pioneering systems have improved the lives of countless neck and back pain sufferers, allowing them to regain their lives and return to the activities they love.
For Tiger Woods, his well-documented comeback was nothing short of a Hollywood sports classic. After more than 5 years of unending, devastating lower back and leg pain—as well as three prior ineffective back surgeries—the 15-time Major Winner underwent spinal fusion surgery using the Centinel Spine STALIF M-Ti™ product in April 2017.
The Anterior Lumbar Interbody Fusion (ALIF) procedure was so successful that he not only won the 83rd Masters in April 2019, but he also posted a record-tying 82nd PGA career win at the Zozo Championship in October 2019—after almost three years of golf inactivity prior to the surgery. According to Woods, "The level of expertise and care I received from my medical team and Centinel Spine throughout [my] medical journey was unparalleled and an integral part of my return to the course."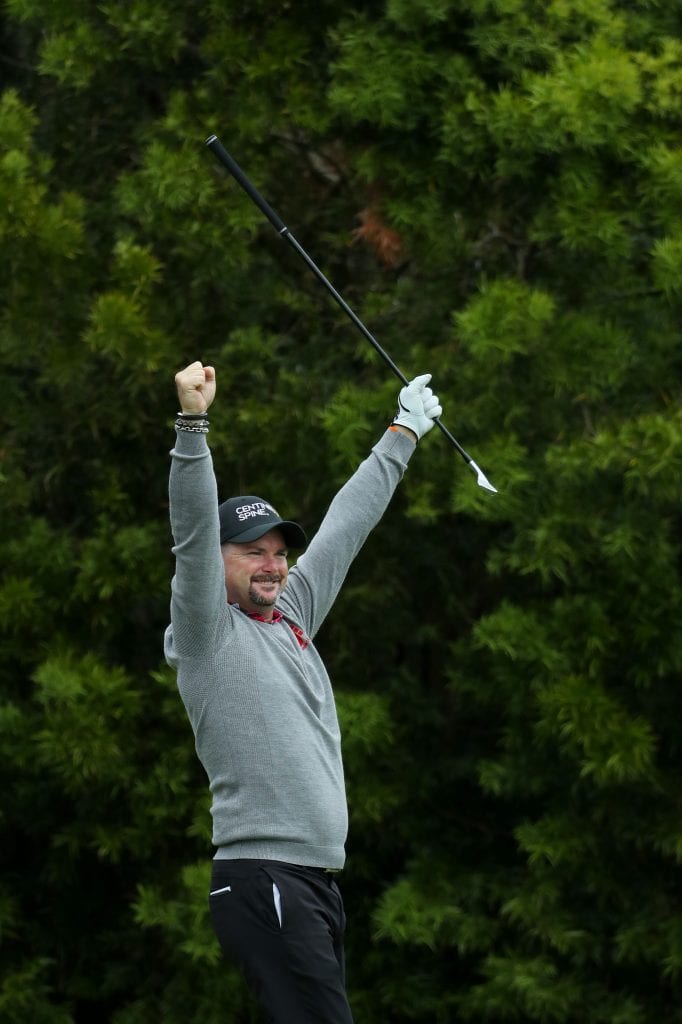 Six-time PGA Tour winner Rory Sabbatini was fortunate enough to take advantage of the other Centinel Spine technology (prodisc) for his lesser-known comeback in May 2016. From early in his career, Sabbatini struggled with neck pain and its symptoms for over ten years. Though he tried to manage his ailments with rehabilitative exercises and conservative treatments, he eventually collapsed at a 2014 tournament due to back spasms caused by the degeneration of the discs in his neck. Two more years of non-surgical treatments only led to intensifying, ceaseless pain. "Every time the pain came back, it was two or three times as worse, and the medication stopped being effective," Sabbatini recalls of his anguish. "I wanted to stick a knife in my neck because of the pain. It affected all aspects of my life and, eventually, I couldn't sleep because of the intense pain and weakness in my arm."
Sabbatini was desperate to find a solution. So, when he received a tip from a friend about a total disc replacement solution, he immediately pursued the surgery with prodisc C. The results were virtually instantaneous. Although Rory struggled with atrophy in his right arm immediately after the surgery, his pain had completely disappeared. "The reduction in pain was so dramatic," Sabbatini excitedly notes, "it was like a complete flip of a switch!"
Three years later, Rory Sabbatini is 100% pain free and at the top of his game. "The prodisc system saved my career," he says with confidence. "I was unable to perform and decided that surgery gave me the best chance to compete at a high level again. Getting back the range of motion in my neck was important to preserve my golf swing." In 2019, at age 43 and with a FedEx Cup rank of 36, Sabbatini made the 'cut' in more events than in any other year of his career—culminating in a hole-in-one at the US Open.
Like Tiger and Rory, Four-time PGA winner Brian Gay is also a member of the Centinel Spine 'comeback club'. The 48 year-old golfer's struggle with pain began as far back as 2008 when he began experiencing periodic neck and arm discomfort characterized by muscle spasms and tightness. Though he was made aware of the total disc replacement option at this time, Gay opted to manage his flare-ups with medication and physical therapy. A 2011 car accident worsened his symptoms, but it wasn't until 2014 that the agony was too unbearable to avoid surgery.According to Gay, "At that time, the pain became debilitating and I lost strength in my left arm. I couldn't sleep or remain active." To his dismay, Gay was forced to stop playing golf, and his family became increasingly concerned about his inability to work and compete—convincing him to seek surgical treatment.
Undergoing a total disc replacement with prodisc C in October 2014, Gay felt immediate relief from his radiating nerve pain and numbness. Within a month or so, he was already back to playing golf and has since competed in over 70 PGA Tour events, ten of which he finished in the top 10. In fact, not only did he complete the 2018 season with a FedEx Cup rank of 48, but he also earned more money on the tour than any year since 2009. Brian proudly notes, "I feel like my activity level is now a 10 out of 10! My recovery after prodisc C was amazing."
A return to golf was not the only inspiring outcome of these stories, however. Regaining their daily lives was truly the greatest outcome from their Centinel Spine-aided procedures. Tiger Woods sums it up best: "I'm a walking miracle. I had low periods for 4-6 months, where there were times I had to be helped out of bed. There were some days when I couldn't stand up. Coming back and playing golf was never in my thoughts, I just wanted the pain to go away—I wanted to live my life again with [my kids], Sam and Charlie. The results of the surgery speak for themselves."
These three inspirational athletes have partnered with Centinel Spine, as ambassadors for their new rediscover spine patient community (www.rediscovermylife.org)—helping other pain sufferers find the resources necessary to not only help regain the lives they had before spine-related pain, but to flourish in their post-pain existence.