The Dominican Republic is an enticing holiday destination, as well as a golf hot spot. Head to this island to check it all out.
Dominican Republic
As one of the Caribbean's most enticing and most visited island destinations, the Dominican Republic is not only a major center for recreational golf, it is also home to the PGA TOUR's Corales Puntacana Resort & Club Championship each March.
Designed by Tom Fazio and opened in 2010, Corales is an exclusive 18-hole course with six dramatic sea-side holes. Located along the natural cliffs, bays, ocean coves, inland lakes and coralina quarries, Corales Golf Course rates among the world's finest golf experiences.
The exhilarating challenges culminate when you play the Devil's Elbow, Corales' final three holes. A feature of the Devil's Elbow is the wow-factor of the18th hole with its forced carry over the cliff-lined Bay of Corales, an inspired capstone indeed to a memorable golf experience.
Another popular upscale resort is Grand Bahia Principe Punta Cana, surrounded by tropical gardens that overlook the Arena Gorda Beach on the Atlantic coast. The resort is a short distance from the Catalonia Caribe Golf Club with its 18-hole course designed by Alberto Sola and Jack Corrie. The course features a good variation of doglegs, as well as an interesting mix of uphill and downhill holes. Features include a large lake—which impacts Nos. 5, 6 and 15—five lagoons, and numerous trees. The sixth hole will challenge all comers, with an island green flanked by bunkers and edged by rocks—the challenge being upped a level due to the north-east trade wind blowing in off the Atlantic. Designed for golfers of all skill levels, Catalonia Caribe is set in lovely natural parkland.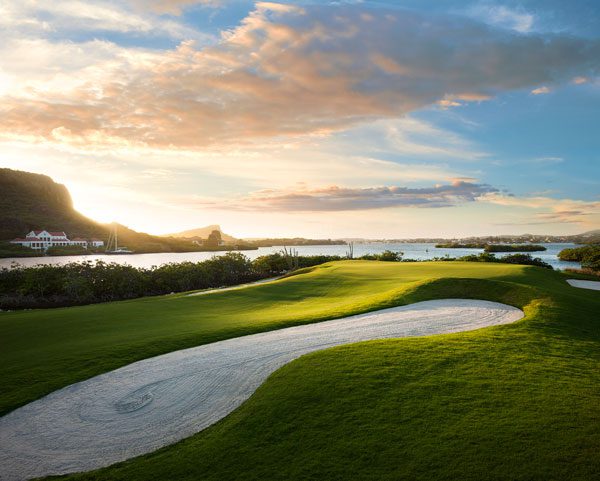 Curaçao
The tropical island of Curaçao, located in the southern Caribbean Sea, is home to no fewer than 50 nationalities; there are also 35 beaches, and some first-class golf courses, two of which are an integral part of luxury resorts.
The Santa Barbara Beach & Golf Resort occupies an expansive 2,000 acres of Caribbean terrain. The resort provides an array of golf packages that include luxury suites, complimentary guided hikes, mountain bike tours, yoga, pilates, historic wellness tours, botanical walks, and of course there's the 18-hole golf course, Old Quarry.
With views of Spanish Water Harbor and a backdrop of Tafelberg Mountain, Old Quarry has been named No. 1 Caribbean golf course for the second consecutive year by USA Today. The course was designed by Pete Dye, known for his innovative designs and influence modern golf architecture.
North of Santa Barbara Beach and its golf resort is the Blue Bay Golf & Beach Resort. This resort has luxury villas, apartments and bungalows situated in the midst of a tropical garden that has views of the pool and golf course. Designed by William "Rocky" Rocquemore, the 18-hole course challenges players of all skill levels by utilizing the island's natural elements as part of the experience. Elevation changes, rocks, sand and sea play key roles at each hole.
Guests can also join a private golf club by heading over to Curaçao's Golf & Squash Club not far from the island's capital, Willemstad.
While there, club members can play on an exclusive 18-hole course consisting of 10 greens, along with the added option of two squash courts. The club also holds challenging golf events each month.
This article first appeared in the PGA TOUR December 2019-May 2020 issue, which can be read here.
See also: Five Golf Courses Not to Miss in Western Canada
Take a Golf Break in Bermuda
Experience an All in One "Stay and Play" Paradise