Since its inception in 1993, MGI Golf have become a global market leader in the electric caddy category. This Australian owned business has a formidable reputation built on experience, innovation and quality of design. Being a world leader in technological advancements in the golfing industry is not an easy task. It is made possible through a commitment to the investment of significant research and development as well as dedication and passion to the game of golf.
MGI has revolutionised the concept of electric golf caddies, through a path of technology, superior design and making the game of golf easier. MGI's electric golf caddies have become an object of desire and a most wanted addition to the game of golf.
MGI Zip series motorised golf caddies are designed with the latest innovative product features to help enhance your time out on the golf course. From the entry level model in the Zip X1 to the flagship model in the Zip Navigator AT, there is a caddy that suits every golfers needs, wants and price points. No need to put stress on your back for hours at a time when you can walk the course with ease.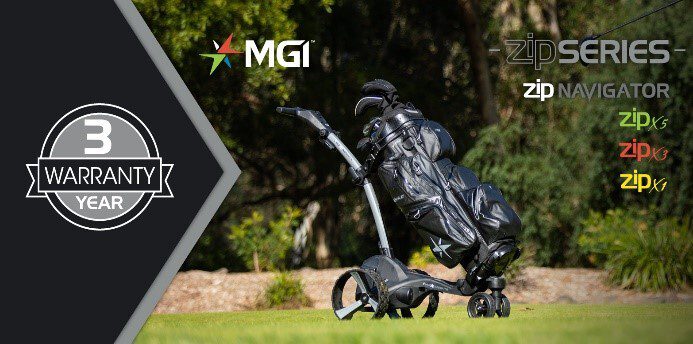 The MGI Zip X5 will improve your game by never having to push or pull your caddy again, simply rotate to choose your speed, click and go. The technological advancements in this caddy are endless! It comes with downhill speed control which eradicates the need for any golfer to have to adjust the speed when going downhill as it is automatically done for you. This weightless and effortless transition allows you to focus on your next shot rather than having to concentrate on pushing your caddy or worrying that it will roll down the hill. You can park on any incline with a simple click of a button to activate the park brake.
The 3-wheel design with a 4th fully foldable wheel for stability, ensures a smooth ride for the whole time you are playing. The advanced Click & Go 250Wh Lithium battery system will last you 2 rounds of golf or 36 holes before recharging. It weighs 25.9lbs without the battery and folds in a matter of seconds for a flawless transition from driving to being carried into the boot of your car. With folded dimensions that are 27.55' L x 18.5' W x 16.5' H, you can easily fit 2 electric caddies in the boot of your car.
If you are looking to step up and take your golf game to the next level, then look no further than the MGI Zip X5 electric golf caddy. Once you play with it, you'll never be able to play without it.
If the Zip X5 doesn't sound like your type of caddy, then look out for the Zip X3 and Zip X1 electric caddies. These models offer a cheaper option whilst still maintaining the quality and sleek design of the higher end caddies. For a more affordable price you lose some features which are found in the Zip X5 such as the electronic park brake, differential gearbox system and the downhill speed control option.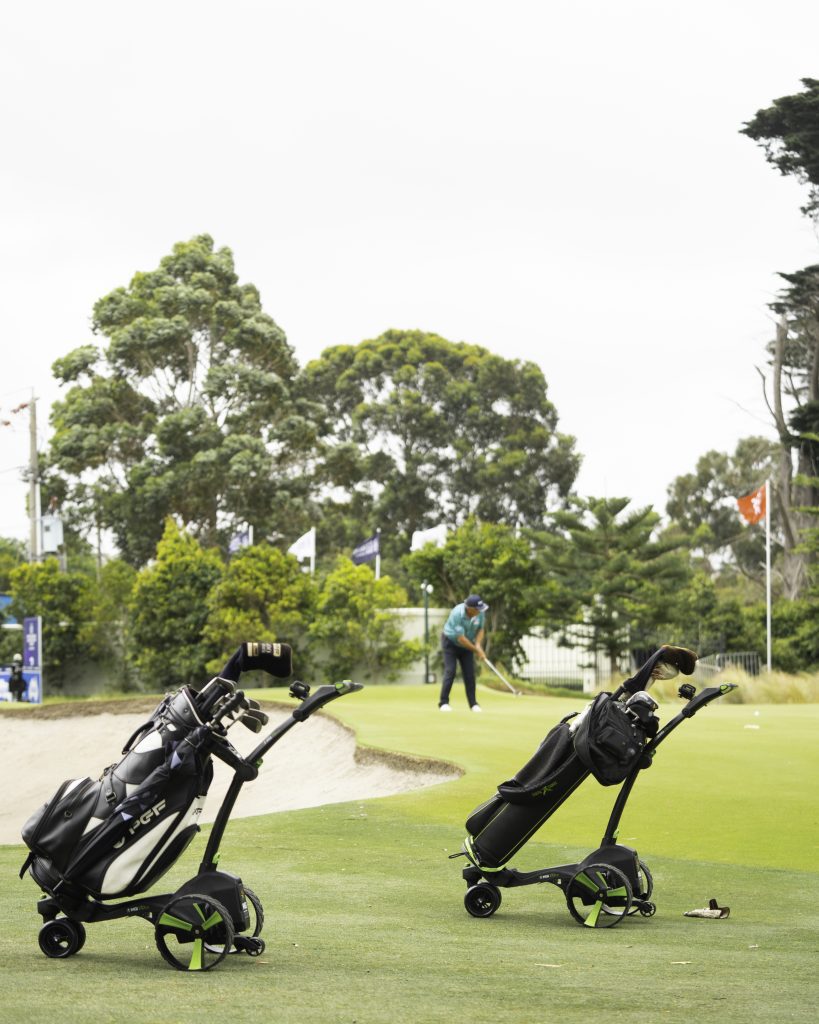 Alternatively, upgrade to a remote-controlled caddy with the Zip Navigator or Zip Navigator All Terrain which will make walking between the holes even easier. Simply click your speed and direction on your remote controller and you will never have to even touch your handlebar from the start to finish of your golfing experience.
The Zip Navigator All Terrain will conquer even the toughest of courses with patented gyroscope straight tracker technology. You will be able to freely watch your caddy traverse on all landscapes with conviction, in turn allowing you to effortlessly walk freely and play harder focusing on your next shot rather than on steering your caddy. With a fully foldable rear 5th wheel for added stability, your caddy will remain upright even on the roughest of terrain hence the name All Terrain. The MGI Zip Navigator All Terrain will improve your game of golf, so you now have no boundaries and no excuses. No need to wait and dream when that dream can become a reality. The Zip Navigator AT truly is a game changer!
But why stop there with your game when it can be enhanced by adding an additional 11 accessories onto your MGI Zip caddy. Including the Zip Travel Bag, Wheel Covers, Multi Purpose Clip, Scorecard Holder, Drink Bottle Holder, Sand Bottle, Sand Bucket Loop, Umbrella Holder, Umbrella Holder Extender, Attachable Seat, Universal Rain Cover and the Zip Cooler and Storage Bag. The MGI Dri-Play and Lite-Play cart bags are also fantastic for using on your caddy which will make it easier for storing your clubs in and other valuables.

For further information, visit mgigolf.com.