By its very nature, golf is a game that brings people together. It's a game that keeps us fit and engaged and a fun way to spend time with friends and family. We hope you continue to find moments of joy through this wonderful sport.
With more than 75 percent of golf courses open to the public, many have seen new faces with more couples, families and friends playing together. Golf is one of the most popular recreational sports in the country. It is a low-impact activity that offers a variety of health benefits – mind, body and spirit – for people of any age. There is also the social aspect of the game with the ability to have conversations about shared interests on course that appeals too many.
The golf industry continues to see unprecedented participation which filters into all areas of the business. PGA TOUR Superstore provides a tremendous one-stop location for both experienced golfers and beginners to have all the latest equipment and apparel for the course.
The game of golf is changing, and PGA TOUR Superstore is committed to bolster the shifts toward a more social, approachable and inclusive game. Golf's changing landscape is being driven by new audiences picking up the sport such as women, millennials and generation Z, contributing to overall growth of the industry. According to the National Golf Foundation, 2021 total rounds exceeded those from 2020 by approximately 20 million amounting to approximately 529 million rounds played nationwide, the highest play total on record.
Growing interest from women, junior and beginner golfers will continue and we're aligning our strategy accordingly, while still focusing on our core avid golfer audience. More specifically:
Women: Our GIRLS GOT DRIVE™ movement is picking up steam and we have multiple opportunities in-store throughout the year, along with teaming up with organizations including SHE WHO GOLFS and WOMEN ON COURSE. In-store, women will find the largest collection of equipment and apparel, including golf athleisure as a reflection of their lifestyle, both on and off-course.
Juniors: Youth golfers make up 15% of golfers with the fastest growing segment being junior women. We will continue our mission of community support through our First Tee partnership.
Beginners: Beyond finding the best on-course equipment from top manufacturers, our experiential environment allows in-store club fitting and expert lessons to ensure new golfers have a knowledge base before stepping onto the course.
The game is shedding its stodginess and has become more appealing to new consumers. That trend is being reflected in apparel and footwear design today. From bold colors to prints, to hoodies and joggers, more lifestyle products are being worn by women, men and juniors – indicating a more relaxed lifestyle preference with golf apparel becoming more athleisure – both on and off the course.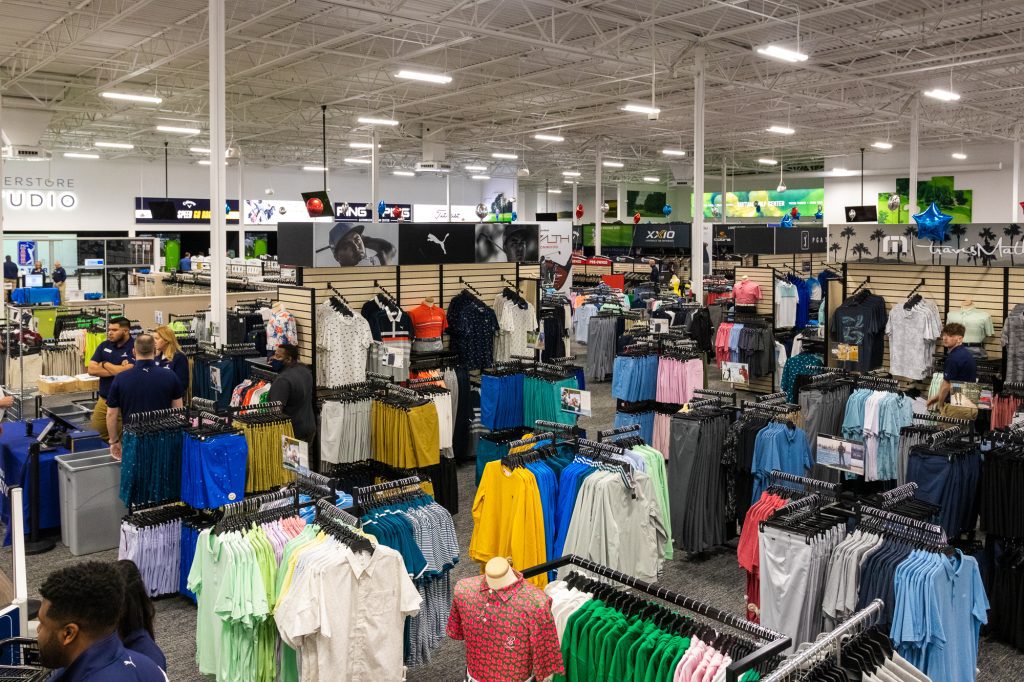 PGA TOUR Superstore is the country's leading specialty retailer for golf. Each store offers the largest selection of apparel, equipment and accessories from men, women and juniors.
Whether you are looking for new attire, the latest clubs from leading equipment manufacturers, speakers to listen to music on the course or the latest at-home training aids, we offer something for everyone's game. Inside PGA TOUR Superstore, beginners and golf enthusiasts alike can work on their swing in customer-friendly, interactive simulators, practice bays and large putting greens.
Giving Back to Others
As a values-based organization, we are steadfast in our commitment to be a positive influence in our communities. We firmly believe in the purposeful impact sports can have in developing and supporting youth. The non-profit organization, the First Tee is committed to opening more doors to more kids across its network, especially inviting those who are in underserved communities to have access to new programs and opportunities. As evidence of PGA TOUR Superstore's ongoing community impact, in 2021 the company – in partnership with the First Tee– hosted in its stores the inaugural Leadership Series. Nearly 300 First Tee teens across the country discovered personal values and leadership skills through interactive sessions facilitated by PGA TOUR Superstore general managers.
Forty students were then selected to participate in the first PGA TOUR Superstore / First Tee Leadership Summit. Set in the unforgettable backdrop of West Creek Ranch in Montana – which is owned by PGA TOUR Superstore Chairman and First Tee Foundation Board Member, Arthur M. Blank – the Summit was designed to strengthen the participant leadership skills through dynamic outdoor and team-building activities with the intended purpose of personal growth, education and coming together to make a difference. Four of the Summit participants were awarded scholarships for their ongoing education.
The PGA TOUR Superstore and First Tee Leadership Series, Leadership Summit and Scholarship program have all returned for 2022.
Thank you for your patronage
You may visit PGA TOUR stores across the country or shop online at www.pgatoursuperstore.com and / or pick up your selected items at your local PGA TOUR Superstore.