Do you have to be rich to play golf? Some aspect of the game – not to mention the prize purses at the leading tournaments – seem to suggest that you do. And it's true, there is an investment to be made before you can get on the green. But it needn't be as expensive as you think.

The cost of equipment and accessible courses are the two main obstacles when people want to start playing golf. Thankfully most golf accessories, including clubs and bag, are durable items which help the cost – some golfers use the same clubs and bags for years on end, so once you have made the main investment, the cost of consumables such as balls is less of a problem.
The other main cost, of actually accessing a course, might initially be daunting, but with a bit of searching, it won't be too hard to find good deals to play on courses not too far from where you live.
Bargains

It isn't hard to pick up second-hand clubs and a putter along with a golf bag at a garage sale, thrift store or local social media marketplace for next to nothing. Clubs can stay in good working condition for many years, with only the grips wearing down and needing to be replaced from time to time.

Whenever golfers splash out on new equipment, their old stuff, more often than not in good condition, gets sold for a fraction of its worth, meaning budding golfers can always pick up real bargains if they are checking the right place at the right time.
Golf is a more physical sport than some players realise. Walking 18 holes will put your legs and feet through their paces. Professional golfers wear golf shoes, but there is no need for beginners to stretch to this expense early on. Comfortable walking shoes or trainers which you already own will get you around 18 holes without issue.
Don't Forget Your Balls
Golf balls are a costly item that many golfers overlook when budgeting, but there is a solution to a potentially expensive problem. The majority of club shops sell 'rescue' balls at a significantly lower cost than new ones, and they are often as good as new. Golf balls have a waterproof covering, and unless a mower has damaged them, they are likely to be in perfect playing condition.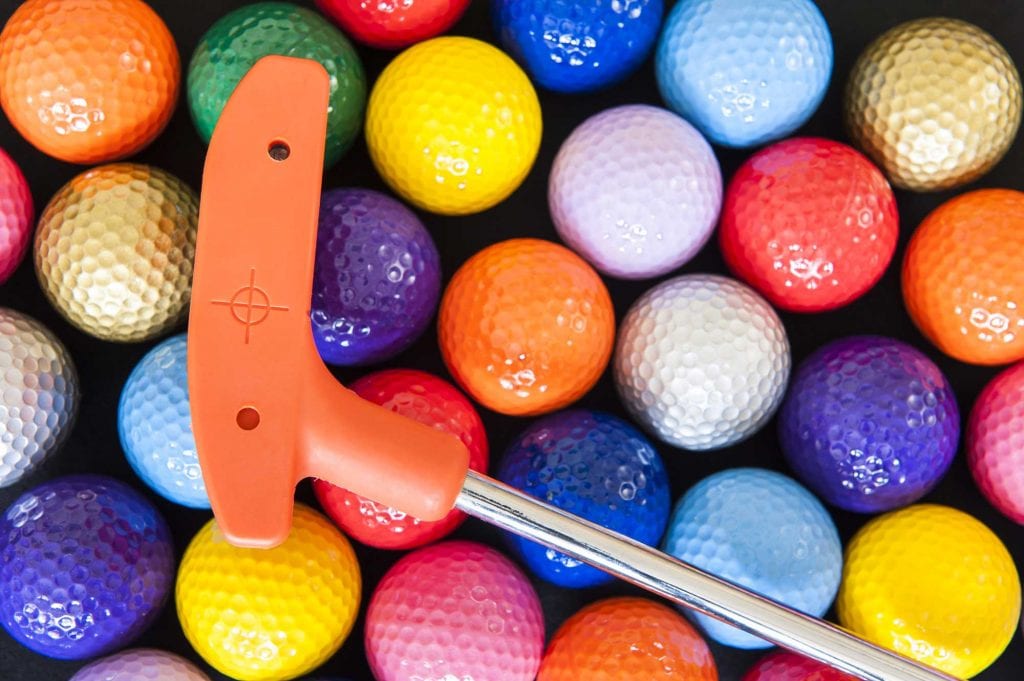 The cost of getting out there on the course varies depending on where you live. A lot of areas have excellent public and municipal courses that are inexpensive for locals to play.
SEE ALSO: How to Hit out of a Sand Trap
Keep the Cost Low

The first rule is to make sure that you know exactly what you're getting in the cost of teeing-off.
Is a golf cart included with the cost of an 18-hole round? It may be, but not always. The average cost for an 18-hole round at a public golf course is $36 including cart.
Private clubs will be costlier. Annual membership dues and fees can range anywhere from the affordable to six-figure sums.

Municipal golf courses aren't run for profit so they tend to offer the best bargains, around $10 cheaper than other courses on average. A well-maintained municipal course can be a great place to practice or to play a fun, affordable round.

If you are looking at a top-class private resort like Pebble Beach or Shadow Creek, guests will pay around $500 for 18 holes, while non-resort guests will pay an additional $45 cart fee. You can hire a caddie for around $95 (and don't forget the tip) and if you need to rent clubs, you can do that for an additional $95 – but the dedicated enthusiast will have his or her own clubs, of course.

A National Golf Foundation report states that barriers to participation in golf are breaking down, and cost is one of them. Nick Bednar, VP of Operations, Billy Casper Golf, said: "There are a wealth of statistics out there to illustrate that the average public greens fee is actually quite affordable ($35 for an average 18-hole round). Many courses offer additional cost savings through loyalty and rewards programs, or memberships/annual pass programs. Frankly, the competitive landscape of golf over the past 15 to 20 years has helped keep pricing very affordable, despite inflation. Technology and third-party vendors have also made it easier than ever for golfers to find discounted pricing within their local golf community."
Practice
So the cost of getting out there on the course can vary depending on where you live, but a lot of areas have excellent public and municipal courses that are inexpensive for locals to play. And of course if you just want to practice your driving or putting, the cost of a driving range or putting green is much less that that of a round on a golf course.
SEE ALSO: Profile: 2021 Masters Winner Hideki Matsuyama

Heading out when the weather is poor or on weekdays, when courses are quiet, are additional tricks golfers can utilise to get some cheap rounds under their belt.

Walking the nine or 18 holes will also save a few dollars. Not only will avoiding the cost of a cart reduce the cost of playing, but it will also benefit you healthwise.

Golf is an opportunity to spend a few hours relaxing in the sunshine with friends. It is a chance to get out of the house and smell the course. Golf is fun.

Golf is far from a game just for the well off. It is a game we can and should all enjoy.