Thanks partly to its great weather, Portugal, situated on the wet side of the Iberian peninsula and with its long Atlantic coastline, has become one of Europe's most popular golfing destinations, despite the fact that there are only 75 golf facilities in the country with approximately 15,000 registered Portuguese golf club members.

Fortunately, more than half of Portugal's courses are high standard and they can thank the British for introducing the game of golf to the country in the19th century when a group of British wine exporters formed Oporto Niblicks Club in 1890 (renamed Oporto Golf Club in 1901). Sir Henry Cotton started the Portuguese golf boom with the remarkable Penina course, the oldest course in the Algarve, dating back to 1966.

Top courses now include Monte Rei, set in the picturesque foothills of the Eastern Algarve; West Cliffs, an hour's drive west of Lisbon; and Troia, on the coast to the south of Lisbon.

There's a trend towards investing in golfing properties such as Palmares Ocean Living & Golf, which offers a relaxed beach and golf blend, and Amendoeira Golf Resort (seen top of page), which has showcase facilities for players who live and breathe the game.
But potential investors will know that locating the perfect golf property isn't as easy as you might imagine. With a huge range of luxurious golf homes available around the globe, it can be tough to narrow down which country to buy in. Even once you've identified a country, finding the right region and the right resort can be tricky, as different buyers have different priorities.
Classy
"Every buyer is unique. For some, it's all about the golf and just the golf. Others might prioritise anything from beautiful beaches to the quality of the local cuisine. Abundant sunshine is often high up on the wish list too. Thankfully, Portugal ticks all of these boxes and more" says Alda Filipe, Sales and Marketing Director of Kronos Homes.
Portugal is of course popular with UK golfers for its proximity. Ewen Harris, who recently purchased a three-bedroom, detached villa at Amendoeira Golf Resort in the Portugal's Central Algarve with his wife Karen, explains:
"We used to love spending our holidays at Huntington Beach in California but hated the long flights. The Algarve has the same effect on me – it's classy, sunny, and friendly. It's perfect, and only a short flight from the UK."
With a country decided upon, it's time to identify the perfect resort. This is where facilities play a key role. Amendoeira Golf Resort, for example, is perfect for players who live and breathe golf. The resort is home to two prized 18-hole golf courses, a nine-hole course, a golf academy, a driving range and putting green. It's perfect for those looking to put plenty of time into improving their technique, as well as for families with teenagers who are still honing their golf skills while their parents show them how it's done on the fairways.
Fitness
With a football field built to FIFA's standards, two five-a-side football pitches, six tennis courts, two padel courts, a fully equipped gym and a one-kilometre jogging track, Amendoeira Golf Resort is also ideal for golfers seeking to enhance their fitness in other ways as well.
Sister resort Palmares Ocean Living & Golf meanwhile, which, like Amendoeira, is owned and operated by Kronos Homes, is ideal for those looking for a blissfully chilled vibe. Between its 27-hole golf course, its Michelin-starred Al Sud restaurant and its prime position in a natural amphitheatre delivering spectacular sea views over the Western Algarve's Alvor estuary, the resort offers a winning combination of top-quality golf, fine dining and rolling golden sands.
Alda Filipe says: "It's also really important to think about what kind of property you want to buy and how you want to use it. Do you want a villa with your own pool or something more compact, such as an apartment? And is it going to be used for family holidays, as a home for your retirement or as an investment property that you rent out? All of this can impact both where you buy and what you buy."
"When it comes to finding the perfect golf property, it's also worth thinking about what else you want from the local area" she continues. "Do you want the convenience of bustling towns packed with shops and restaurants within easy reach, or would you prefer to be in the midst of a rural idyl? Or a combination of the two?"
For an investment property, buyers will need to investigate how popular and well-known the location and resort are, as these could influence both demand from holidaymakers and the home's potential resale value.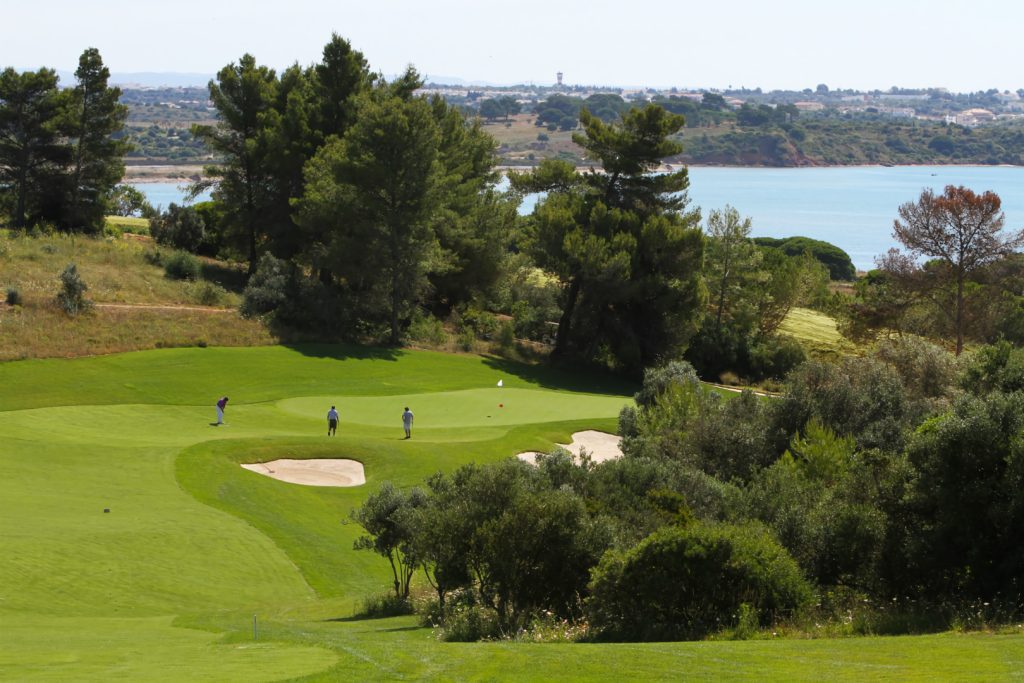 Palmares offers a range of homes, with low density of construction of just 5.7% forging an exceptional harmony between residential accommodation, golf and the ocean. The homes are part of a masterplan of 460 homes (103 villas and 357 apartments). Buyers can choose between completed golf-front and ocean-view villas designed by Pritzker Award-winning RCR Arquitectes, priced from €3.4 million, land plots with a preliminary architectural study from €1.050,000 and build your own home options with an indicative construction cost of €1.3 million. Signature Apartments start from €510,000.
Over at Amendoeira Golf Resort, buyers can choose between apartments and villas set in beautifully landscaped gardens. Each property offers exceptional interior design and all modern amenities. Apartments include two-bedroom homes priced from €285,000 and two- plus one-bedroom duplex apartments costing from €380,000. Villas range from three-bedroom homes priced from €660,000 to superior four-bedroom properties costing from €1.650 million. All villas come with their own private swimming pool.

For more information:
Palmares Ocean Living & Golf: [email protected], (+351) 917 766 932 or https://palmaresliving.com/
Amendoeira Golf Resort: [email protected], (+351) 282 320 820 or https://www.amendoeiraresort.com/en/

See also: Golf Events for March 2022

See also: Veteran Golf Photographer David Cannon to Receive PGA Award