On a day filled with record-tying scores, a nearly two-hour weather delay, a drama-filled afternoon, a triple bogey by the eventual winner and a three-man individual playoff in front of the best-attended LIV Golf event held in the United States, two familiar names returned to the top of the podium at LIV Golf Tulsa.
 
4Aces GC Captain Dustin Johnson won the individual trophy for the second time in his LIV Golf career with a birdie on the first playoff hole to defeat Branden Grace and Cameron Smith. Grace's Stinger GC also won for the second time, by one stroke over the 4Aces in a victory sealed by Grace's par putt on the final hole of regulation.
 
In becoming last year's season-long Individual Champion, Johnson won a three-man playoff in Boston, making eagle on the first playoff hole. With his win Sunday at Cedar Ridge Country Club, he becomes the third two-time winner in LIV Golf, joining Brooks Koepka and Talor Gooch, and he moves to sixth in the individual points standings after a slow start to his season.
"Next time I'd like to win without going into a playoff," Johnson said. "Would be a lot less stressful."
For the all-South African Stingers, it was a long time between wins, nearly a year since they won the inaugural LIV Golf Invitational tournament in London last June. They wore blue ribbons all week in memory of legendary South African golfer John Bland, who passed away Tuesday at the age of 77.
 
"It's amazing how these things happen," said captain Louis Oosthuizen. "Blandy was an inspiration to all of us growing up watching him play … It was just nice to sort of know in the back of our minds that he was there with us this week."
 
Sunday was a day of low scores, with Smith and RangeGoats GC's Harold Varner III tying the LIV record-low score of 61 (9 under) set by Grace in Friday's first round. Yet when play was suspended two hours into the final round, Johnson and his 4Aces appeared in control. Johnson was a bogey-free 3 under on his day and led Grace by three strokes, while the 4Aces led the Stingers, also by three shots.
 
But then play resumed, and the leaderboards tightened.
 
At the par-4 10th, the most difficult hole this week, Johnson's tee shot landed left of the cart path, and his second shot got away from him, finding the water on the left side of the green. After a penalty stroke, his fourth shot found the greenside rough. He found the green on his fifth shot, then two-putted for triple bogey. That left Grace as the leader, with Johnson a stroke back.
 
"I wish I could blame it on the rain delay," Johnson said. "It wasn't the rain delay's fault, though. No. 10 was really the only hole where I had a little bit of a hiccup. Everything that could go wrong went wrong on that hole."
Johnson steadied himself with a birdie on the next hole to tie Grace atop the leaderboard, but now the hopes were raised for several chasers in the pack – primarily Ripper GC Captain Smith, who was reeling off four consecutive birdies at the time. When Smith birdied his final hole for his 61, he had the solo lead at 17 under.
 
Grace then birdied the 17th to tie Smith at 17 under with one hole to play. Johnson, his playing partner in the final group, was at 16 under. But Johnson then rolled in a clutch birdie putt on the final hole to join the playoff. Meanwhile, Grace sealed the Stinger win with his par putt to finish with a 5-under 65 to go with counting rounds from Dean Burmester (64) and Charl Schwartzel (66).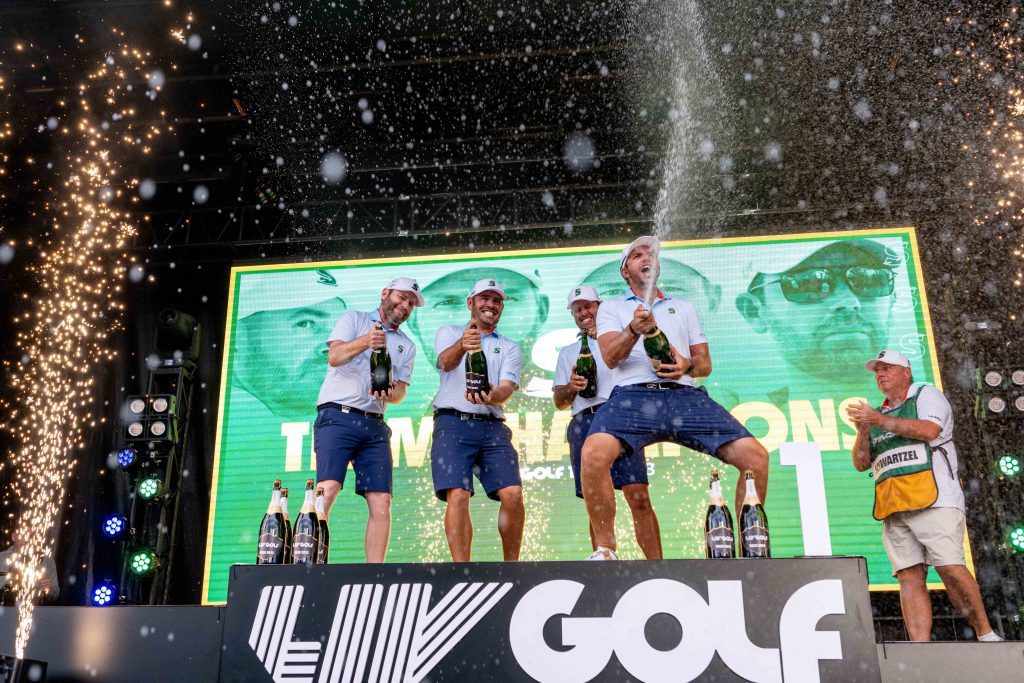 "I actually hit a great first putt that was straight on line," said Grace. "Just nice finishing it out and then knowing that the team was successful."
 
On the playoff hole, all three players saw their approach shots finish in the same general area below the hole. Grace missed his attempt, then Johnson knocked his in. Smith had the closest look but for one of the few times Sunday could not find the bottom of the cup.
 
"I thought it was pretty good. Just kind of didn't come back," Smith said of his attempt. "I holed a lot of putts today. Can't really be angry at the greens."
 
Grace, who had rallied past Johnson to win last year in Portland, said winning the team title helped make up for coming up short in the playoff. "At the end, it was not bittersweet," Grace said. "But I know I put in a lot of hard work and it's paid off, and the team really wanted this one."
 
As for Johnson, the victory gives him plenty of momentum going into next week's PGA Championship, the second major of the season.
 
"Feel like I'm doing everything really well right now," Johnson said. "I'm really looking forward to next week."
Top 5 Leaderboard
1. STINGER GC (-40): Dean Burmester 64, Branden Grace 65, Charl Schwartzel 66 (Rd. 3 score: -15)
 
2. 4ACES GC (-39): Patrick Reed 64, Pat Perez 66, Peter Uihlein 67 (Rd. 3 score: -13)
 
3. RANGEGOATS GC (-35): Harold Varner III 61, Talor Gooch 67, Thomas Pieters 67 (Rd. 3 score: -15)
 
4. CRUSHERS GC (-34): Anirban Lahiri 65, Charles Howell III 66, Bryson DeChambeau 67 (Rd. 3 score: -12)
 
5. SMASH GC (-34): Jason Kokrak 63, Brooks Koepka 65, Chase Koepka 67 (Rd. 3 score: -15)