With three world class golf courses and a golf academy for men, women and juniors, Amendoeira in Portugal is a haven for golf fanatics. We look at some of the features of this irresistible golf resort.
Drive along the coast, across the rolling countryside or up into the mountains as you travel along Portugal's Algarve region, and you'll see a surprising array of different architectural styles. The Algarve's rich architectural history is a source of inspiration when it comes to creating homes, and the Amendoeira Golf Resort blends the best of traditional Algarve architecture with contemporary design.
The apartments and villas in Amendoeira feature traditional influences throughout, with chimneys, platbands and açoteias all drawing on heritage of local region. But for many property buyers, the real attraction will be the golf facilities – because Amendoeira features no fewer than three award-winning golf courses, as well as scenic jogging paths, football and five-a-side pitches, tennis courts, padel courts and swimming pools. There's also a new clubhouse, reception, restaurant and sports bar, provided as part of an extensive revamp by Kronos Homes.
The 270 hectares of space and nature provide the perfect scenario for you to practice golf on three world-class golf courses.
Faldo Course
Designed by Sir Nick Faldo with strategic play in mind, this 6598m Par 72 championship course demands careful positioning to score well. "The land at Amendoeira is dramatic and the project has the potential to be a real talking point in the Algarve. With so many courses in the region, that's no mean feat", pointed out Nick Faldo, during his visit in 2007.

In a modern twist on a traditional recipe, cacti and wild herbs replace the role of Sunningdale's heather, spartan Holm oaks and ancient olive trees take the place of a lush English woodland, and desert scrub bunkers of crushed limestone replace Berkshire's sandy tracts in a golf course that revels in the classic principles of strategic play.

Faldo Course won, in 2016, the title of Portugal's Best Golf Course, given by World Golf Awards.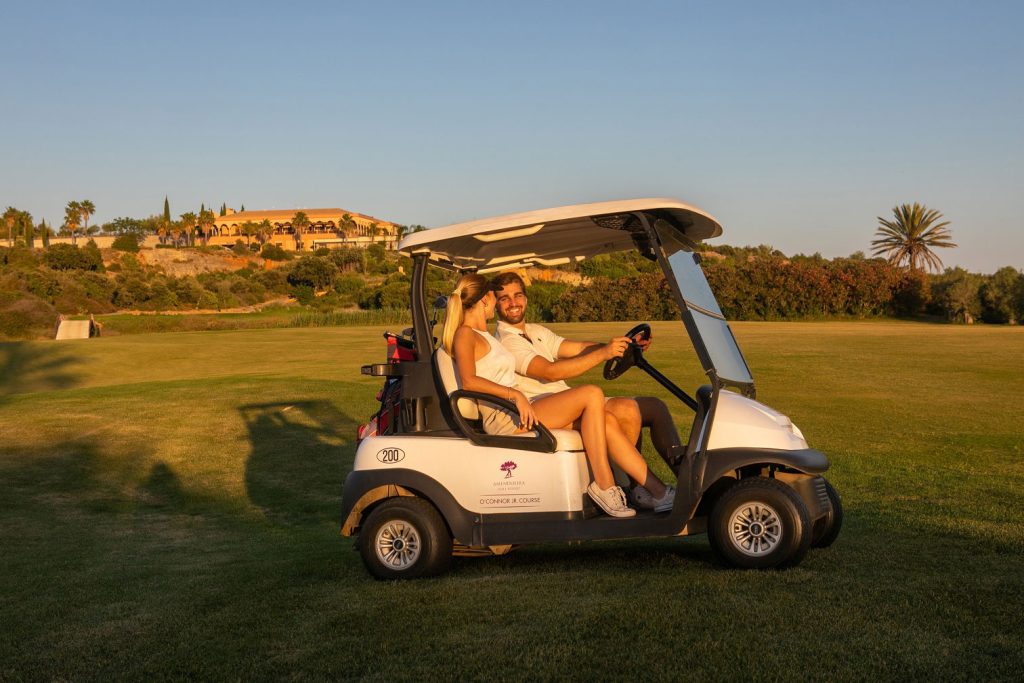 O'Connor Jnr. Course
Designed by Christy O'Connor Jnr., this course complements the neighbouring Faldo Course and also takes full advantage of being situated in a fertile valley. Its various water features, both lakes and watercourses that are spread throughout the entire course, demand accuracy and test from all golfers, and the rich topsoil has been skilfully landscaped and planted with mature palm trees, affording a lush, ornamental setting like an extensive oasis.

This course has tees that are generally connected to the fairways, but its greater overall distance, the water hazards and big greens provide its challenge. Golfers must also be prepared to read the subtly contoured putting surfaces that are strong features.


Academy Course
The nine-hole Academy course is the only floodlit nine-hole golf course in Portugal. It is located between the Faldo Course and the O'Connor Jnr. course and is ideally suited for beginners and those who wish to sharpen up their short game. It has been built to the same high standards as the Faldo Course and O'Connor Jnr. course.

Three teeing options vary the line of play into each hole and maximize every hazard designed into the green complex. The 7th is the feature hole on the course, where two of the teeing options play over water.

The nine-hole Academy course will become a sure favourite with the whole family and a must to play alongside its big brothers.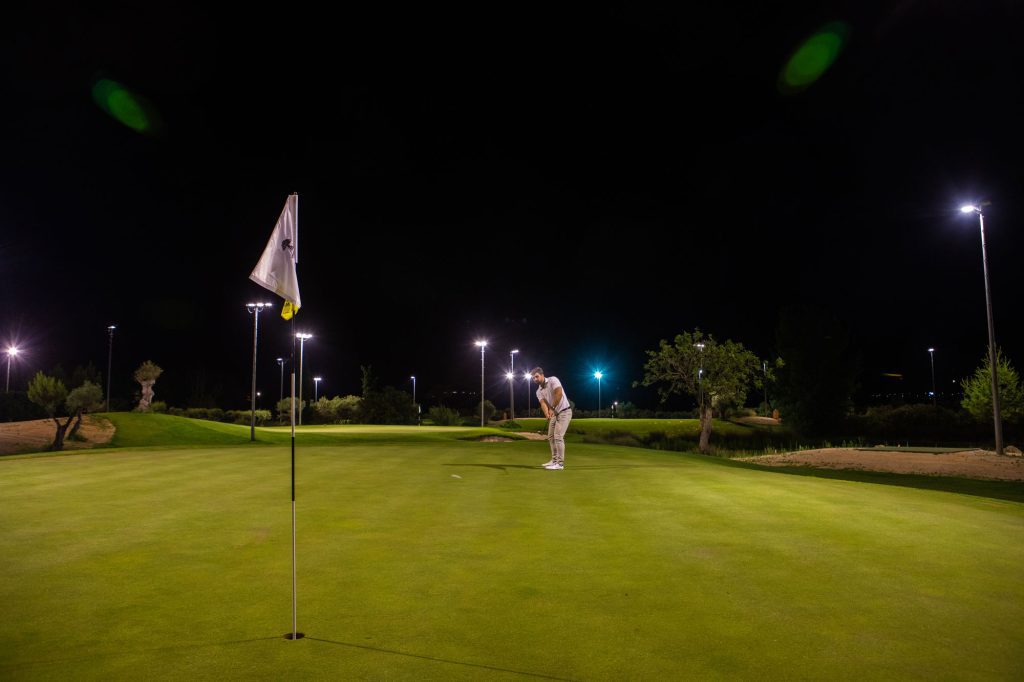 Another attractive feature of Amendoeira for golfers is the Amendoeira Golf Academy, which offers a wide variety of training programmes to meet the needs of men, women, and juniors. These programmes cater for every standard of golfer from beginner to amateur, competitor to touring professional. Whatever your age or ability, there is a programme for you. They all feature a maximum 5:1 student to teacher ratio to allow for plenty of personalised instruction designed to deliver maximum results within the time available, with the help of high tech machines like "Trackman".

Along with technical proficiency, Amendoeira's instructors will help promote mental efficiency, equipment evaluation, equipment fitting, quality nutrition and physical fitness. At the end of the lesson players will receive a personalised CD/DVD of the lesson. This will include swing analysis compared with a professional swing, the drills prescribed by the instructor, and a final comparison of the original swing to the new swing. Membership options are available in three tiers.
Find out more about Amendoeira and its golf facilities here.
See also: The Top Golf Courses in Italy